Today is your lucky day because we've done the research so you don't have to!
We've compiled a comprehensive list of the top 7 UX Research Tools and grouped them into four categories. That way, you'll be able to quickly locate the perfect tool for your needs. 
What is UX research?
UX research is the study of your product's end user behavior, attitudes, perceptions and habits.
The goal of UX research is to support informed design decisions based on collected knowledge about users and to usher in the creation of products which are easy and a joy to use. 
UX research entails the following:
Conducting interviews, surveys and other activities with representative actual or potential users to learn more about them, about their behavior and expectations for your product

Defining customer personas, journeys and stories 

Analyzing the collected data to identify wants and needs, points of confusion, usability issues and opportunities for improvement

Defining the severity of the discovered issues and deciding on a priority list

Presenting research findings to stakeholders and getting buy-in for user centered design

Testing and iterating on ideas regularly in order to improve the user experience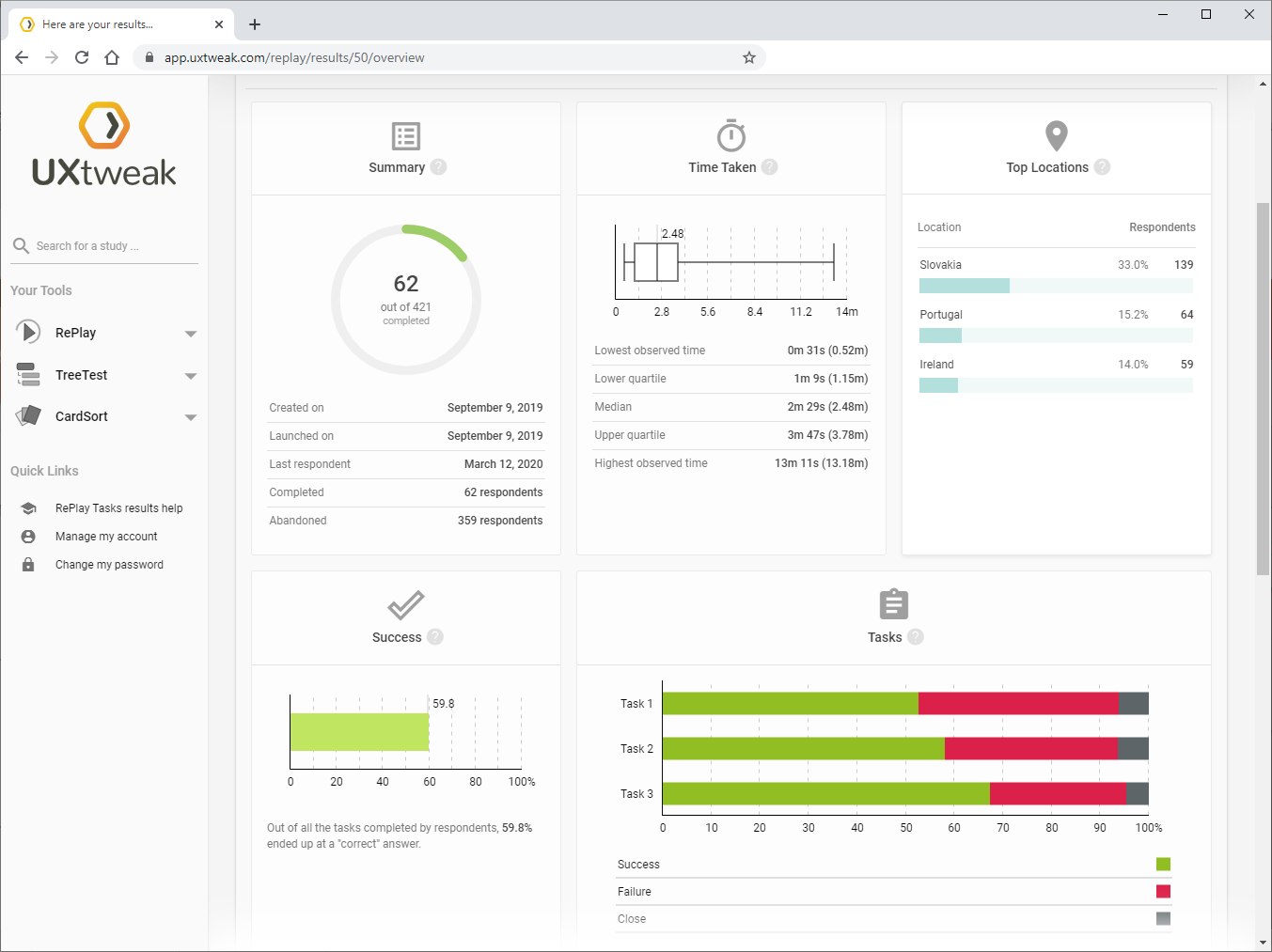 Find out more about its benefits and methods in our UX research guide.
What are UX research tools?
If you tried to do everything manually, raw research can take forever to organize and process. UX research tools help with a lot of the hard work that research studies involve. Having a robust tool stack is essential for conducting great studies effectively and efficiently, from recruiting participants and preparing interviews to receiving feedback and communicating your findings.
The optimal UX research toolkit for you is determined by where you are in the research process, what your goals are, which research approach you'll employ, the size of your firm, and the product you're researching. 
7 best UX research tools
We compiled a list of tools that every researcher should be familiar with.These will help you streamline the process of UX research.
UXtweak

Maze

Grain

Lookback

User Interviews

UserZoom

Hotjar 
UXtweak
If you're seeking a comprehensive platform with all the UX research tools in one place, UXtweak is your answer. 
UXtweak is an all-in-one UX research platform which offers all of the features you'll need to create a  perfect digital product that visitors will want to return to. It has everything you need for conducting an insightful study for all kinds of purposes, combining all the different UX research methods in one place.
It offers advanced analytics and a wonderful UI that is easy to comprehend even for a total newbie.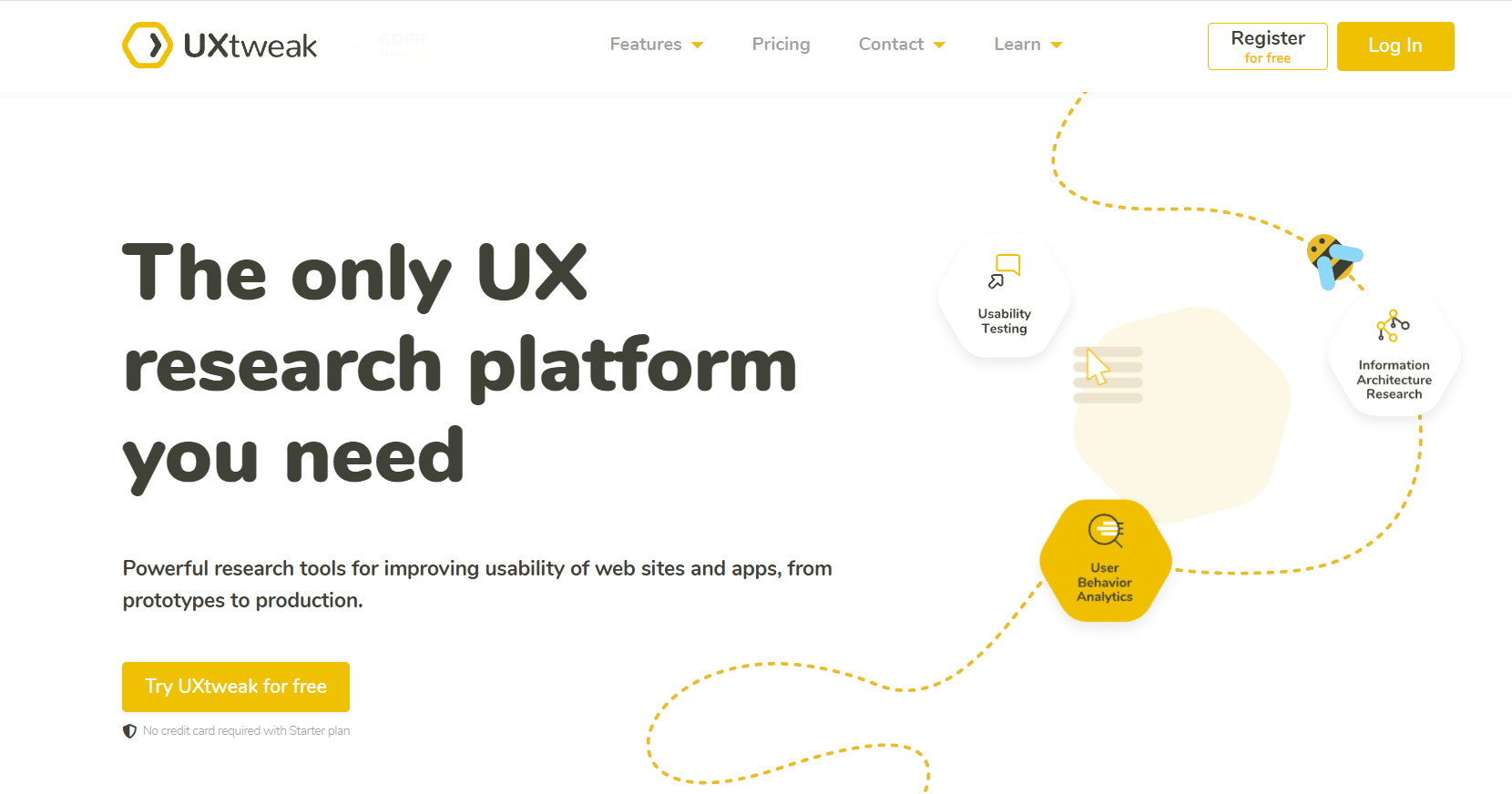 Features:
Website Testing

 

Session Recording & Heatmaps

– Storing every user event and making it searchable with advanced filters; Click, Move and Scroll

Tree Testing & Card Sorting –

Helping you improve your website's information architecture 

Preference Test
Five Second Test
First Click Test
Surveys
Prototype Testing
Mobile Testing
Competitive usability testing
The most exciting new feature of UXtweak is Mobile Testing for apps, websites and prototypes (Figma, InVision, Axure, Adobe XD, Sketch, Marvel…), which allows you to easily test your mobile UX and find out what usability problems users have on a small screen size!
On top of that, UXtweak offers you some amazing cost-effective recruitment opportunities. You can make use of our handy Recruiting Widget that allows you to turn your website's visitors into study participants. Or get targeted respondents from our 155M+ User Panel from 130+ countries around the globe .
Pricing:
UXtweak offers a free Starter plan with an unlimited number of live studies and no study duration limits, making it great for smaller projects.
You may also choose between a pro plan starting from only 99€ per month or a custom plan tailored to your specific requirements. 
Maze
Maze is a cloud-based platform that allows companies to test prototypes, marketing campaigns, customer input, and design concepts.
Maze is a good platform for quickly turning your prototypes into finished products, thanks to its complete usability testing tools, which include task analysis, multiple route analysis, heatmaps, A/B testing, and guerilla testing.
After performing in-depth usability tests with Maze, you can then share the results with your testers through a link to obtain actionable feedback in minutes. 
Maze works with all of the industry's leading user experience tools, including Figma, Sketch, Adobe XD, and InVision. 
Pricing:
Maze is free to use if you have one active project and up to 100 answers per month.You can upgrade to the Professional plan for $75/month for additional research bandwidth.
Grain
Grain is an easy-to-use tool for recording, organizing, and sharing user interviews with stakeholders and collaborators. 
With Grain, you may create a searchable research library for your entire company to quickly find and retrieve consumer insights without help.
You can transform hours of user interview recordings into a short, entertaining video summary that your stakeholders can enjoy watching using Grain Stories. Simply cut and paste significant moments from your client discussions to build a shareable highlight reel.
Pricing:
Grain offers a free plan with up to 5 hours of Video Storage and Live Transcripts or a Business Plan starting at $19/user/month with unlimited Video Storage and Live Transcripts. Or you can ask for a custom plan. 
Lookback
Lookback is a powerful UX research tool that allows you to conduct live user interviews.
Lookback facilitates moderated, unmoderated, and remote research and features a collaborative dashboard that allows you to sync all of your research, tag your coworkers, and build highlight reels of the most valuable discoveries
You may create virtual observation rooms, record users' screens while they use your app or website, and transcribe user interviews.
Lookback sessions are automatically recorded, allowing you to replay them whenever you want and generate highlight highlights to share with colleagues and stakeholders. The team plan, among other things, allows you to conduct remote or in-person research, test prototypes, and invite observers to observe in real-time.
Pricing:
Lookback provides a 14-day free trial. Following that, you can pick from a variety of paid plans:
Freelance: A low-cost solo plan for $17 per month. There are ten sessions every year.
Team: $99 per month for a total of 100 sessions per year.
Insights Hub costs $229 per month for 300 sessions per year.
User Interviews
User Interviews is a well-known platform that provides you with easy access to high-quality participants to help you make better product decisions. 
With User Interviews you're guaranteed to discover the right fit for your study within the pool of over 350,000 ready, willing, and verified research subjects (along with your present pool of users).
For your current users, User Interviews include tools such as screener questionnaires, interview scheduling, and participation monitoring. The average turnaround time is 2 hours, although it varies depending on the project. 
Pricing:
If you want to use their audience, the Pay As You Go plan starts at $40 per session, and there's also an Essential tier for $250 per month that covers 15 sessions.
UserZoom
UserZoom provides businesses with meaningful and measurable user experience insights at every level of the product development life cycle.
UserZoom offers tools useful at many stages of the design process. With them, you can conduct interviews and surveys, test information architecture with tools like card sorting and tree testing, and more! They also offer help with remote usability testing, including both moderated and unmoderated studies.
Pricing:
Because this technology is aimed at large businesses, its solutions are rather costly. UserZoom GO is available at a monthly fee of $250. Despite the fact that there is no free plan, they do offer a free trial.
If you are looking at UserZoom you might want to consider its competitor – UserTesting. Read our detailed comparison of UserTesting vs UserZoom to find out which one is right for you.
Hotjar
Hotjar is a strong behavior analytics tool that lets you monitor how your consumers interact with an existing product in real-time.
Hotjar allows you to send out surveys, record and view screen recordings of people engaging with your website, build heatmaps, and collect real-time user feedback. It's all about putting yourself in your consumers' shoes and optimizing the user experience appropriately when using Hotjar.
Offers Integrations with Miro, Jira, Slack and Asana.
Pricing:
Hotjar's basic free subscription allows for recording up to 35 daily sessions, limitless heatmaps, and 1,050 recordings each month. Paid programs provide more research capabilities, such as:
Plus, it's only €31 per month, which is excellent for small teams.
€79/month for businesses and websites that are expanding.
For major enterprises and websites, the scale is €311/month.
If you were not able to find the right tool for you, visit our Comparison page where you can find other alternatives and reviews of UX research tools.