There aren't that many good card sorting tools out there on the market. However, it can still seem hard to choose the one. It's necessary to be aware of all of the options as in some cases, their features vary quite significantly. 
In this guide, we compare some of the most popular options, their features and pricing as well as list all the benefits. But first, let's see why online card sorting tools (and their good selection) matter. If you need a refresher on what card sorting is and how it works, read more of our guide.
Why do you need an online card sorting tool?
A good card sorting tool helps you streamline the card sorting activity and process all collected data for easier analysis. Offline card sorting without using a tool is a rather long complicated process where any complex analysis requires you to be a spreadsheet wizard and is prone to human errors. Working with a specialized tool saves you time and money.
Conducting your study online without moderation also allows you to test an unlimited number of respondents, leading to results where you can be sure about their statistical reliability. A good card sorting tool gathers all the user insights and transforms them into actionable data (such as shareable reports, graphs and tables that are easy to analyze). It basically  takes care of all the dirty work, allowing you to focus on understanding your users.
See our full online vs. offline card sorting comparison.
5 best online card sorting tools:
UXtweak

UserZoom

Optimal Workshop

Proven by Users

KardSort
UXtweak
UXtweak's Card Sorting tool is a perfect option for both beginner and expert researchers. It enables all types of card sorting (Open, Hybrid and Closed) in combination with advanced analytics and pleasant UI. You can do card sorting with images or with having the respondents also order them. All the data from your card sorting study is represented in the form of comprehensive diagrams and charts, user profiles and shareable PDF reports.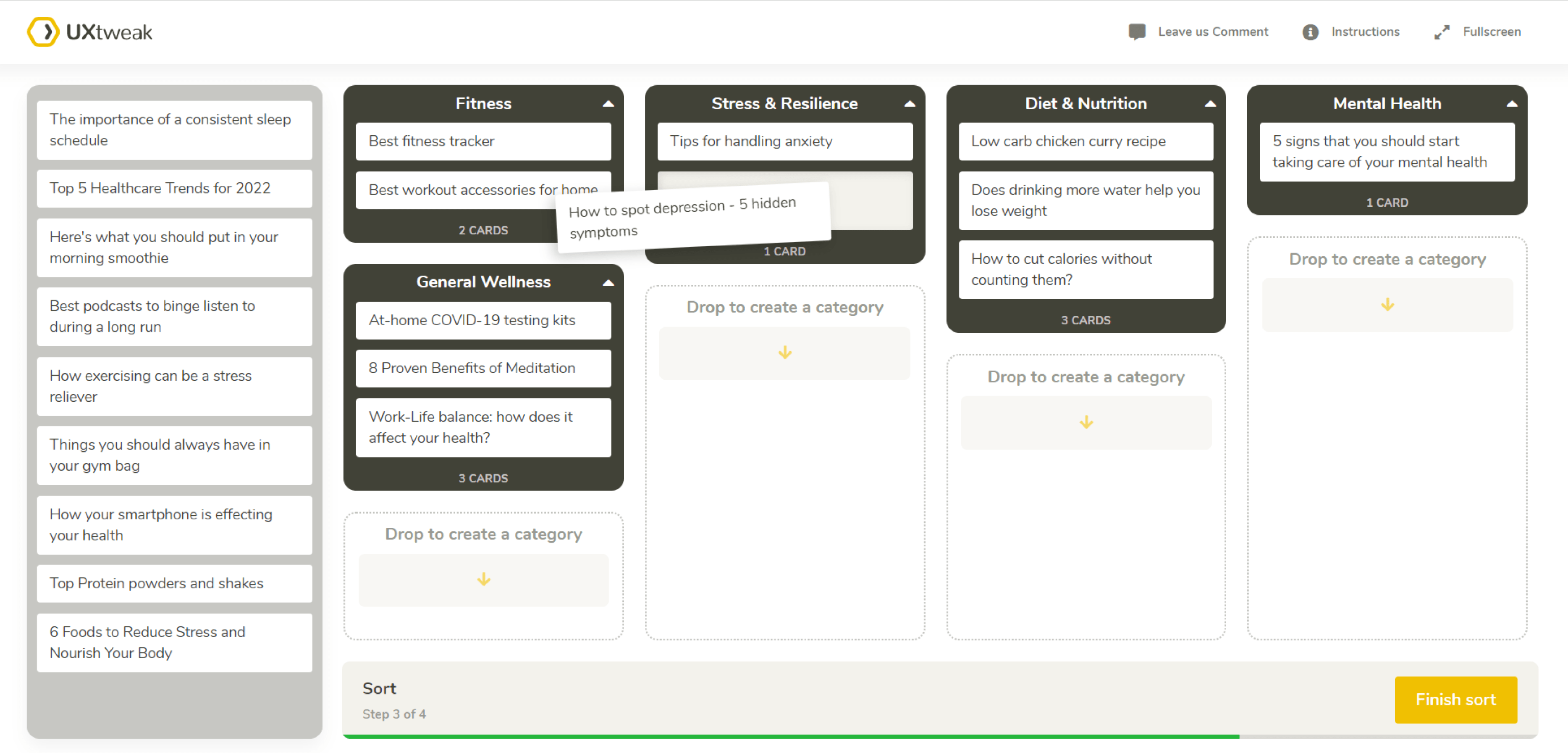 In addition, UXtweak offers a variety of recruiting opportunities. You can make use of the Recruiting Widget by placing it on your site to get respondents who are your real visitors and customers. Or you can just pick what kind of respondents you want and leave the recruitment to UXtweak's cost-effective User Panel.
Pricing: UXtweak offers a free forever Starter plan for small projects which allows for an unlimited number of studies. You can start testing right away even if you're on a budget!
Paid plans start from 90€/month. There is also a custom pricing solution. 
UserZoom
UserZoom is another usability testing tool that gives you the ability to create a simple card sort. UserZoom only offers 2 types of card sorting: Open and Closed, without the option of Hybrid card sorting. For recruitment, tThey also give you access to a large user panel to recruit from. UserZoom is mostly used for enterprise-level research and testing, which explains the high cost of this tool. 
Pricing: A free plan isn't available. However, you can use their build-a-plan pricing model, starting at $50K/year. If this is outside you budget, you might be interested in UserZoom alternatives.
Optimal Workshop
The Optimal Workshop suite includes five quantitative and qualitative tools to assist you in doing user research. One of them is OptimalSort, a comprehensive card sorting tool. They also provide a participant recruitment service to help you get respondents for the study. 
Pricing: pricing starts from $99/month, however the cheapest plan is quite limited. Free plan is available.
For more details read our comprehensive comparison of Optimal Workshop and UXtweak.
Proven by Users
Proven by Users is an old card sorting tool that provides you with mostly everything you need for a basic card sort. The UI, however, is rather outdated and the analytics are pretty primitive. Proven by Users does not offer help with recruitment.
Pricing: A free plan available with a maximum of 3 respondents per study. The pricing is $40 per month.
KardSort
KardSort is a good free online card sorting tool that offers Open, Closed and Hybrid card sorting. When analyzing data or using images in your card, you may encounter limitations. Overall, if you're on a tight budget and don't anticipate to mix your data output with other tools and services, KartSort could be a viable option.
Pricing: Free.