While creating a user journey map is very insightful and totally worth the effort, it's also a rather time-consuming activity. We understand how frustrating it can get when you not only have to do the research but also analyze the insights in a comprehensive way and make them visually appealing to present to others. This process is always easier when you have a good user journey map template at hand.
We did our research and found some of the best user journey map templates, with different structures, suitable for a variety of use cases. You can find the list below, download and give a try to each of them. But first, let us explain why we think following a user journey map template is so convenient.
Why do you need a user journey map template?
We've already mentioned it many times: user journey maps come in all shapes and sizes. And if you feel like creating your own map from scratch is necessary, go for it!
However, most of the user journey maps out there follow pretty much the same structure, only changing some of the components to fit their goals. Therefore, most of the time, there's no need to reinvent the bike, you just need to find a good user journey map template. 
Here are some of the reasons why user journey map templates are so convenient:
They save you tons of time

, allowing to only worry about the content, not it's design

They are visually appealing

and structured in a way that's easy to read and analyze, which will help when you'll be presenting your findings to other teams/stakeholders

They are

easy to edit and customize

Most of them are

free
Top 9 user journey map templates
Many online user journey map tools offer free templates that you can easily download, edit and customize with your own data. There are also PDF templates that you can use as an example when creating your own user journey map.
Below, we've gathered 10 best user journey map templates and links to them.
1. Miro user journey map template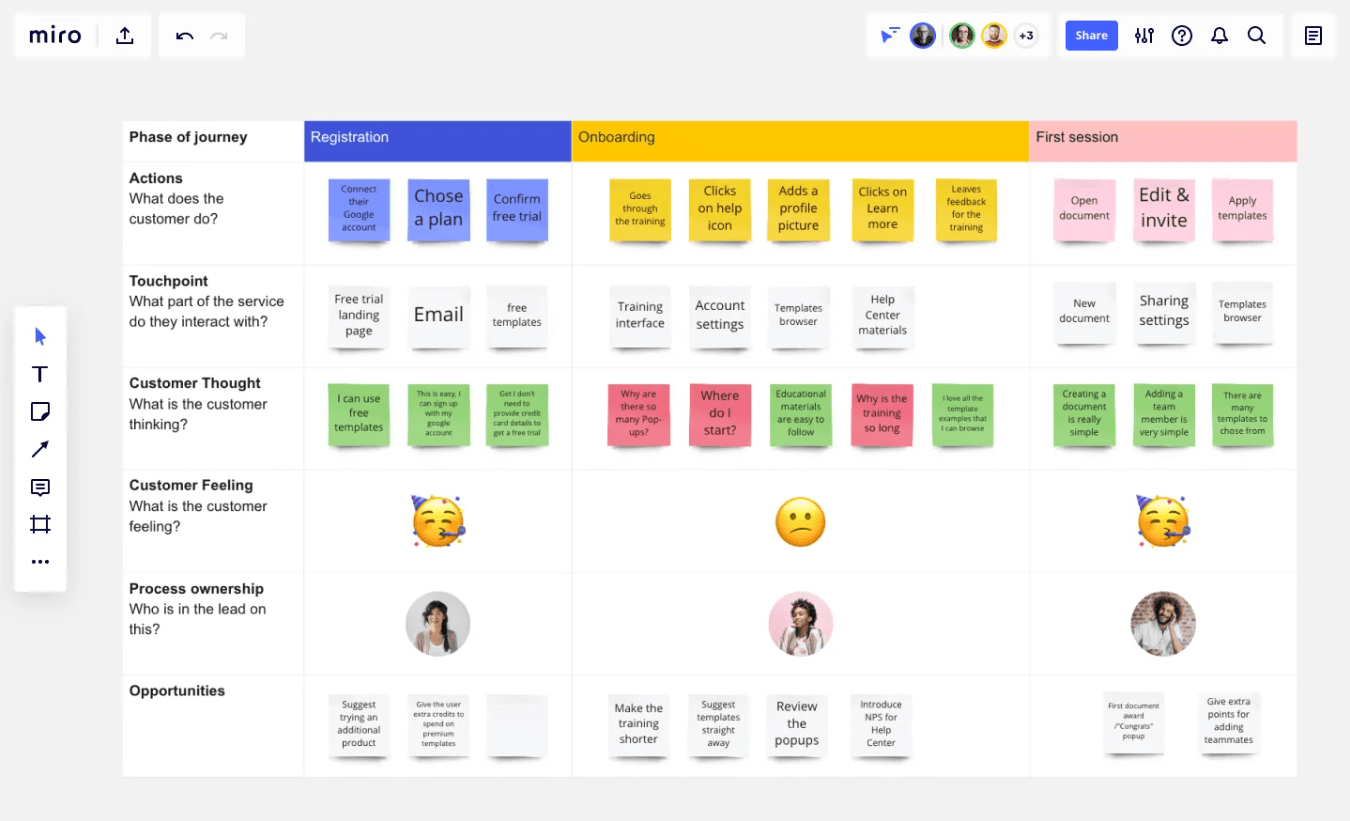 Miro offers a classical user journey map template that you can access and edit for free by just creating an account on their website. It's minimalistic, easy to customize and with their collaboration features you can invite other team members to work on it together.
2. Figma user journey template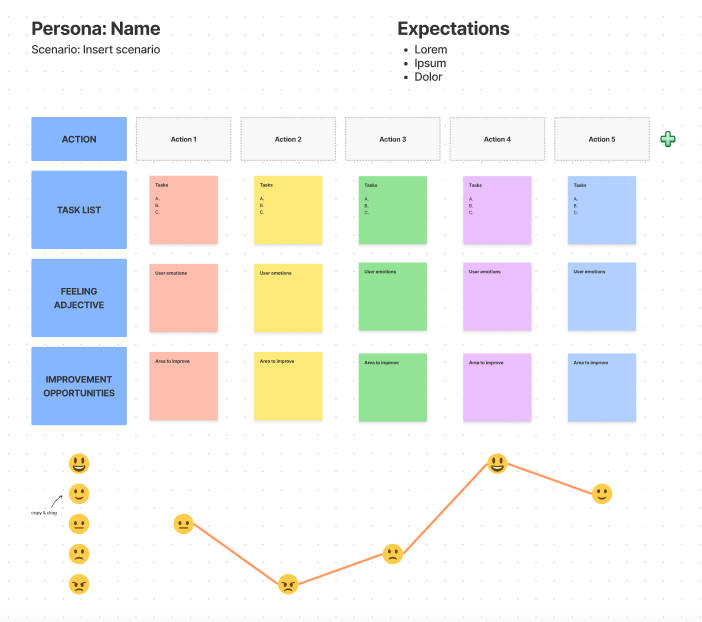 Our go-to prototyping tool never disappoints when it comes to templates and luckily, they have a couple of user journey map templates too. You can choose the one that you like the most, they're all easily customizable and very visual.
3. UXPressia user journey map template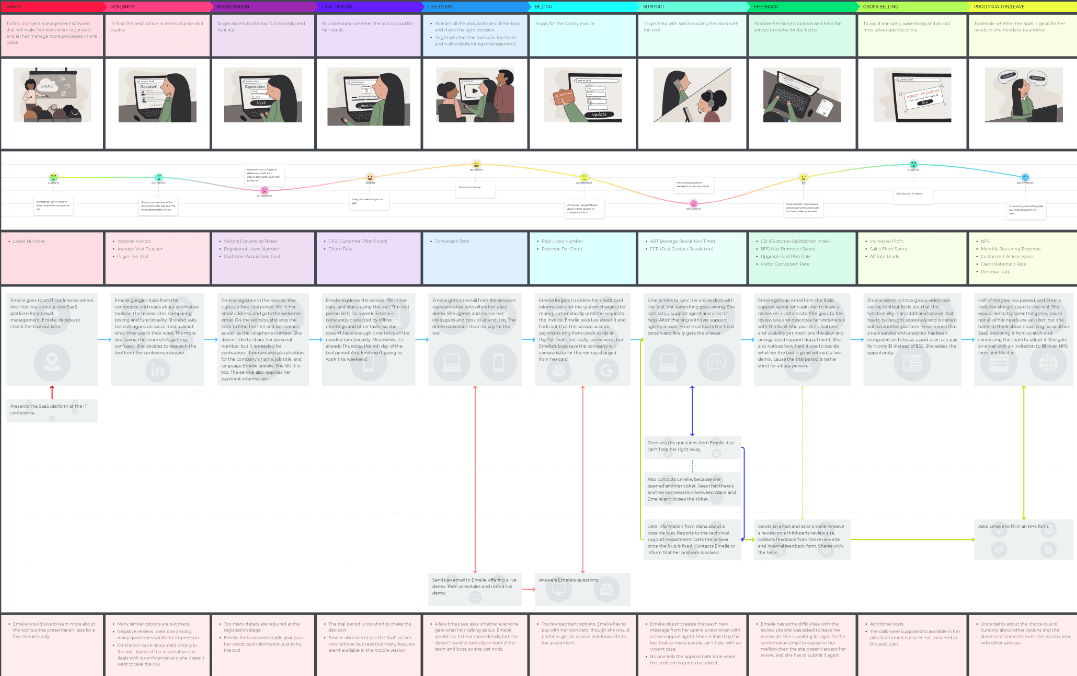 UXPressia, a dedicated user journey mapping platform, offers tons of user journey map templates, to help you map out every little detail of your customer's interaction with the product. In the picture above you can see their SaaS buyer journey map template, but there are also templates for customer success JM, company website visitor JM and social media CJM. 
UXPressia offers a free plan, however it only allows for 1 project. A paid subscription will cost you $16/user/month.
4. Sketch user journey map template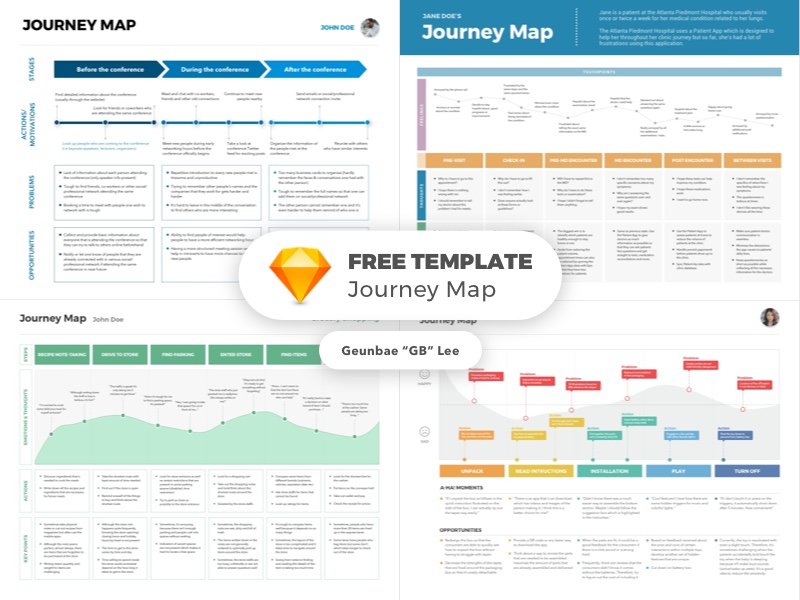 Another popular prototyping platform, Sketch has tons of various user journey mapping templates that are very detailed and available for free download. To use them in Sketch, however, you'll have to pay the tool's subscription, which is $9/month/user. The bundle we're linking in this guide has 4 different user journey map templates, check it out!
5. Hubspot journey map templates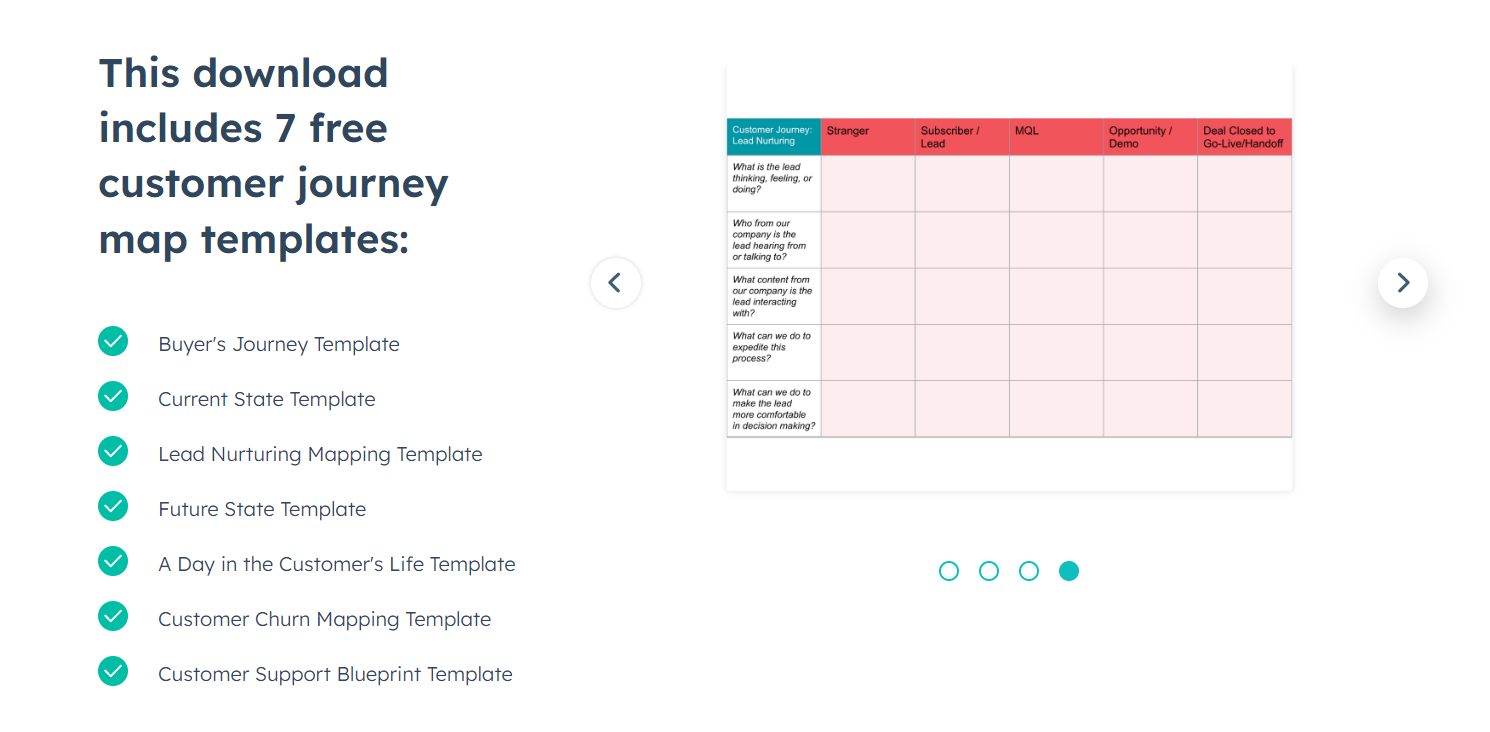 Hubspot offers up to 7 different user journey map templates in one free bundle. Buyer's journey map, lead nurturing map, future and current states user journey maps etc. To access you'll just need to register for their free account. If you ask us, that's a great catch, go get them!
6. InVision user journey map template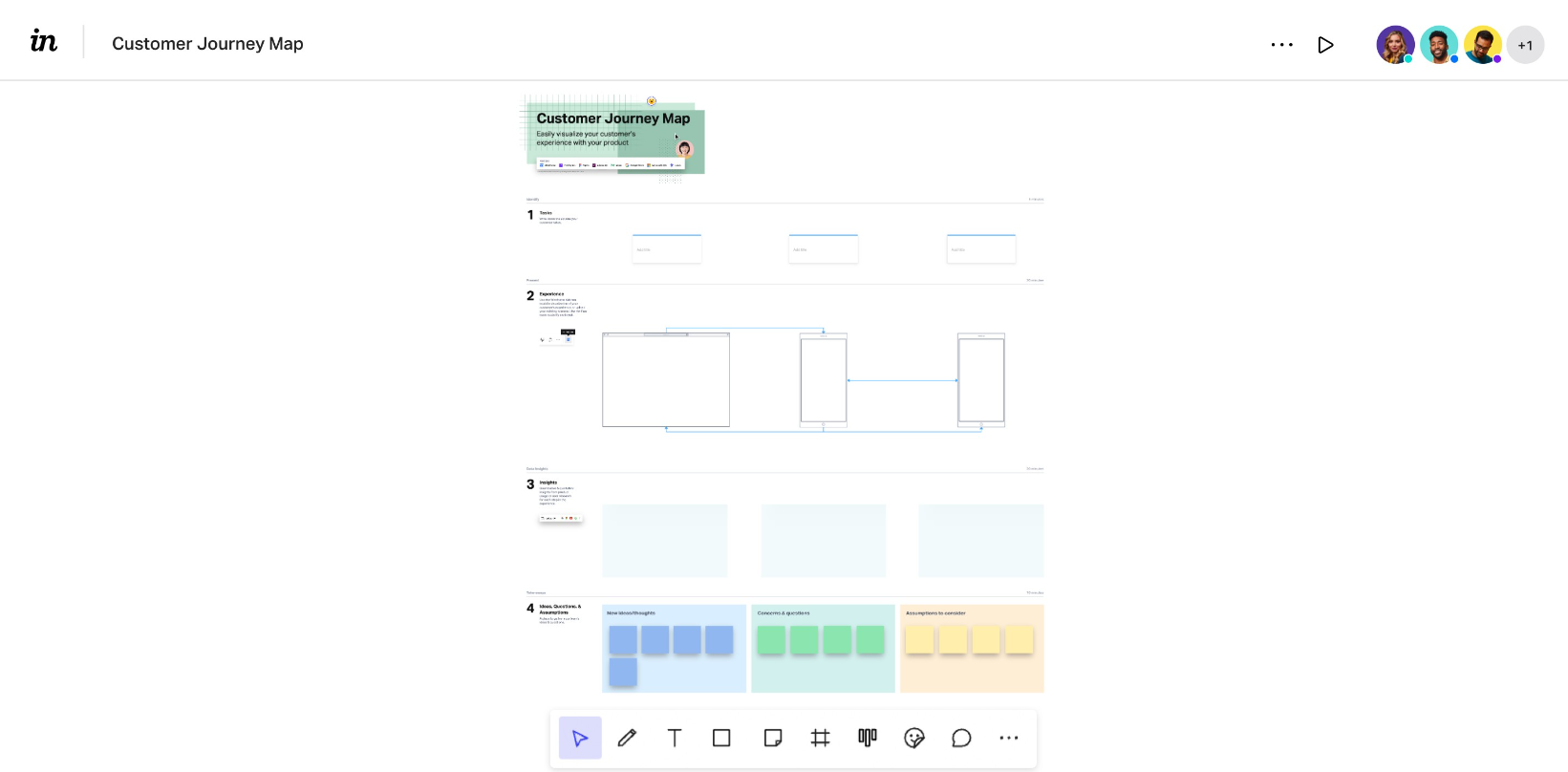 For InVision users there's another great user journey map template designed by the platform itself together with the American Express design team. You can access the template by subscribing to their free forever plan.
7. Custellence user journey map template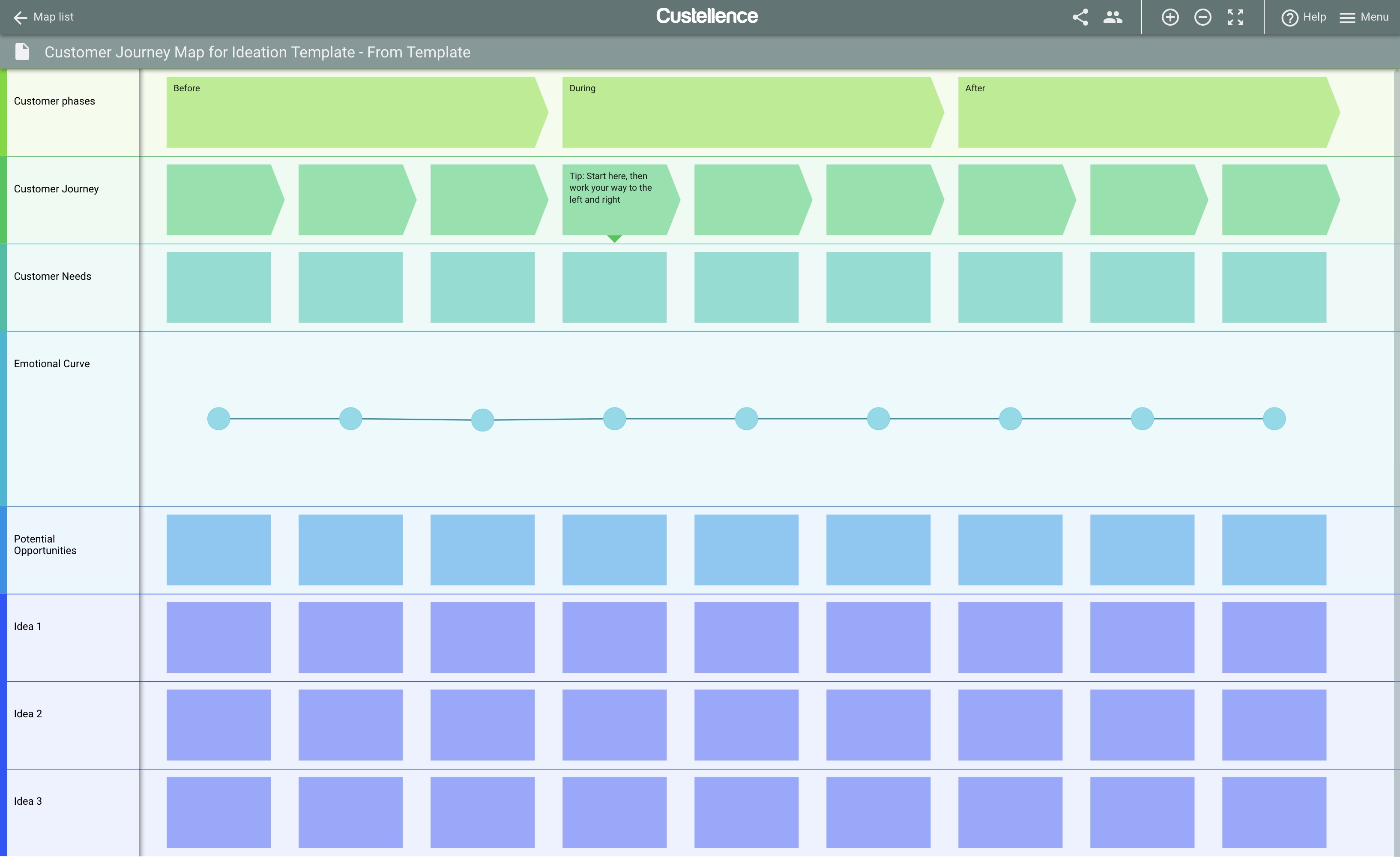 Custellence is a dedicated user journey mapping tool that you can either access for free or subscribe to their paid plan for $30/month. The template is fully editable inside the app, or you can just download the PDF version.
PDF user journey map templates
Just like you can create a user journey map inside a dedicated app, there's also a possibility to download a PDF version of the template.  Not all of them are as easily and fully editable, however, could still help in the process of creating your own map.
8. NN/group user journey map template 
A classical and very simple user journey map template from NN/group. It has all the components you need to map out your customer's journey, understand their pain points and come up with the solutions. Available in PDF at the link below. 
9. User journey map PDF template 
A great editable PDF template which represents both the customer's and the business's side of the journey. It's available for free download in exchange for registration at the link below.