In this guide, we are going to take a look at some examples of how card sorting helped designers and researchers from around the web improve their products' information architecture and create intuitive navigation. At the end, we'll also walk you step-by-step through a detailed example of an online Open Card Sorting study conducted with UXtweak.
Card Sorting Examples
Below, we'll be looking at 3 great examples of Card Sorting conducted for different companies and organizations:
Museum of Art & Design NYC

SHÍ at the University of Iceland

Fortune 500 financial company

Museum of Art & Design NYC
A project curated by a UX Designer Soojin Sielle Kim who was hired by the Museum of Art & Design in NYC with the goal to evaluate and improve their desktop website's usability. Several different methods were used to do so, and card sorting was one of them. Some of the others are site mapping, user flows, competitive analysis and heuristic evaluation.  
Goals
Analyzing the website's current Information Architecture (the website's anatomy) and generating ideas for its improvement.
Card Sorting Study
Soojin Sielle Kim chose a great approach to the study, making it a 4-step process that includes both generating ideas and evaluating them. 2 moderated in-person card sorts were conducted, one open and one closed with a total of 3 participants and 46 cards per each. 
The first study was open card sorting. Soojin Sielle Kim asked the respondents to group the website's content in a way that made sense to them and label the groups accordingly. There were no limitations on the number of groups they could create. Analysis of the results allowed to generate ideas for a new possible website structure that was later evaluated in a closed card sort.
Closed card sorting was the second step of the study. The categories that Soojin Sielle Kim presented to the respondents were the ones previously generated in an open card sort. A closed card sorting study helped to evaluate them and create a final website structure.
Results
The outcome of a card sorting study analysis and other research activities done by Soojin Sielle Kim was a new intuitive navigation of a museum's website.
SHÍ at the University of Iceland
An information architecture research conducted by Breyta, a Belgrade Web design agency for a Student Body Council at the University of Iceland. They were approached with a redesign request for their website for the organization's anniversary. 
Goals
The goal of the project was to give a website a new look but also tackle some usability problems and get rid of the confusing navigation system.
Card Sorting Study
The main problems with the initial website's navigation:
There was a hamburger menu instead of a regular top menu bar

Too many categories (13) that were overlapping each other
Breyta organized an open card sorting study session with the students of the University of Iceland as participants. The study was conducted in-person and moderated by their colleague. Each card in the study represented a page from the website. Students sorted cards individually and gathered together at the end to come to a common result. 
Results
As a result of this sort, 8 main content categories were defined. Based on the insights and consultation with the Project Manager of Breyta the website structure was simplified to only 4 main categories for easier navigation.
Fortune 500 financial company
A project that took place a while ago involved John Nicholson working with a marketing team of a Fortune 500 financial company on creating a content microsite that would store all their informational and brand-focused content. There were more than 100 content pieces that needed to be organized and a lot more to come. John was contacted to conduct information architecture research for the future website.
Goals
As the marketing team already had come up with some potential IA models, their initial wish was to just help them pick the best one. However, as it turned out, none of the proposed structures were based on user research. The new goal involved one month of research and design together with conducting card sorting and evaluating its results with tree testing in order to organize the content. 
Card Sorting Study
A total of 100 content pieces were picked for the study. Although all of them already had titles, the team ended up rewriting most of them in a simplified way so that it was easier to comprehend for the testers (with no acronyms or jargon). There was also a pilot study conducted after which, another couple of cards were reworded and some of them were eliminated due to them being unnecessary. 
The final study included 75 cards. For the first step of the research, the team ran 5 remote think-aloud open card sorts to gain qualitative insights and understand why participants sort cards a certain way. The second part of the study involved 50 participants and a remote unmoderated card sort.
Results
With the help of an online card sorting tool the team was able to make sense of all the qualitative and quantitative data they gathered and create 3 new potential IAs. Those were further evaluated in tree testing and the final chosen structure later resulted in performing 75% better in terms of content findability than the initial one.
Watch the video below to see how to set up a card sorting study with UXtweak.
UXtweak Card Sorting study example
You've seen how effective card sorting can be on actual real-life examples, let's look into how you can set up a card sort using UXtweak's free Card Sorting tool.
The goal of this Card Sorting study was to define the content structure for an online parenting magazine and to organize all its useful articles on topics such as recommendations on buying baby clothes and healthy food advice from pediatricians into intuitive categories.
We asked a group of young parents to sort thirty articles into groups to explore what would be the most natural way to organize them. 
Deciding on the method and the type of the study
We didn't want to be constrained by the blog's previous structure, so we decided on an open Card Sorting, which requires users to create and label their own categories for content.
Creating cards and categories
Now it's time to create the cards. In this case, each card represents a content item from the online parenting magazine blog we mentioned earlier.
We could simply use the titles of articles that represent typical content in our online magazine. Here you can see what the card setup looks like in the tool.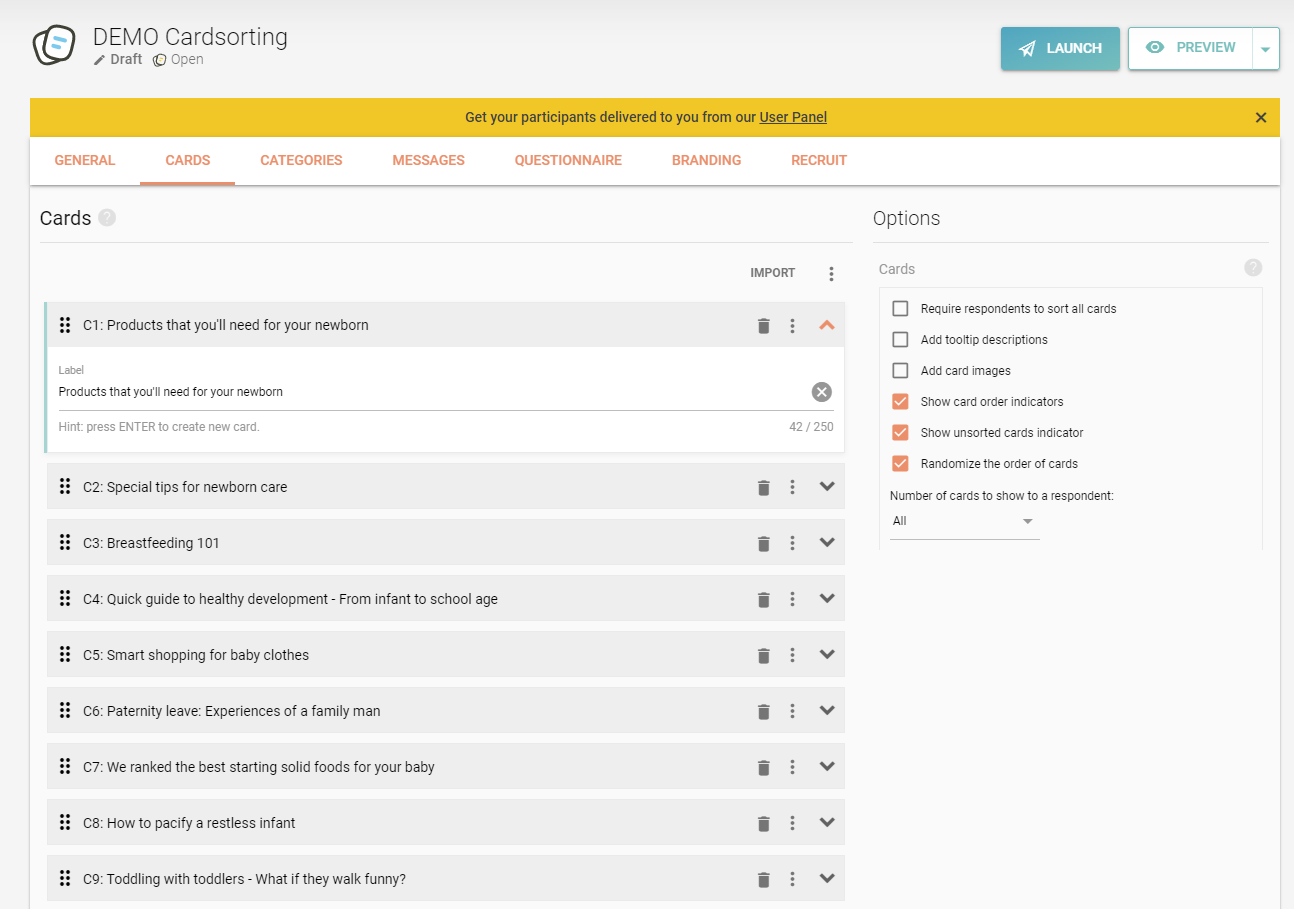 We also added a welcome message and instructions to introduce respondents to our study. With the addition of a screening question, we filter out the respondents who aren't relevant as likely readers of our magazine.
 And that's it for the most basic setup. All that remains is to launch the study. After that, you may start collecting results by recruiting respondents.
Recruiting respondents
To get respondents to participate in our card sorting, there are three main options. 
Copying the link and sharing it with people via basically any way imaginable: personal message, social media, ad campaign, email newsletter, etc.

Using UXtweak's

Recruiting Widget

, which allows me to recruit real website visitors as study participants for free

Recruiting profile-targeted users from UXtweak's 155M+

User Panel

, for as low as $5/respondent. 
Study preview
UXtweak provides you with a handy feature called Study Preview which shows you what the card sorting looks like from the respondent's point of view. Here's what we have after our quick setup. 
The first thing a respondent sees is a Welcome message. This step also contains the screening question, to make sure that respondents who aren't from our target audience go no further. Considering the fact that the target audience of our test are parents, at the beginning of the study we ask whether the respondent has at least one child. Those who answer positively can continue to the next step – the Instructions. The rest receive the rejection message since they aren't relevant to our research.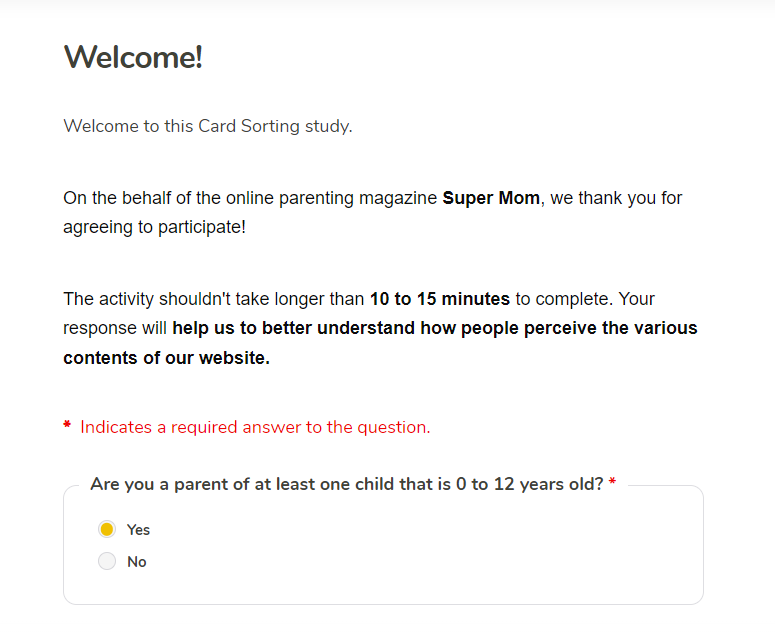 In our case, the respondents are then introduced to a couple of pre-study questions to help us profile them based on their attributes and segment the results later. All the study questions are fully customizable and you can alter them to fit your specific needs in the Questionnaires section of the study setup.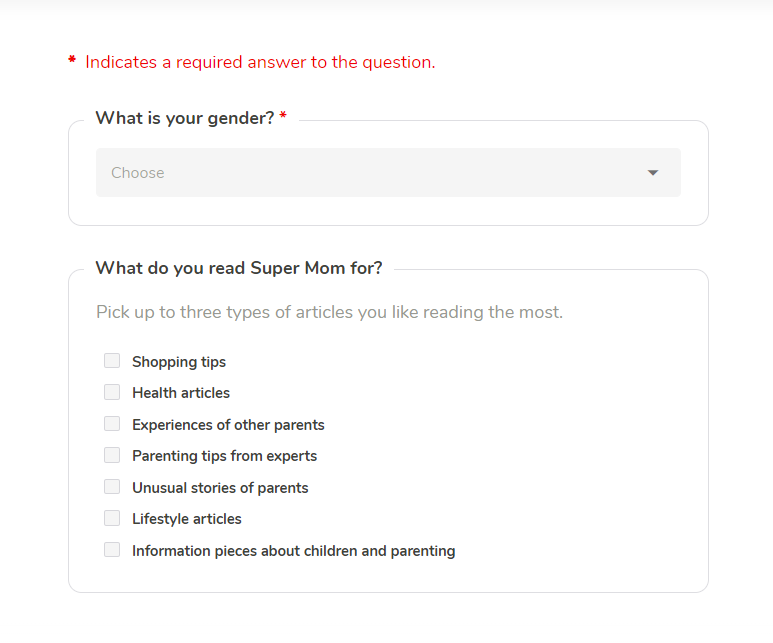 After answering the questions and reading the study instructions, the respondent can start the card sorting. All they have to do is drag and drop the cards into categories according to their own thoughts.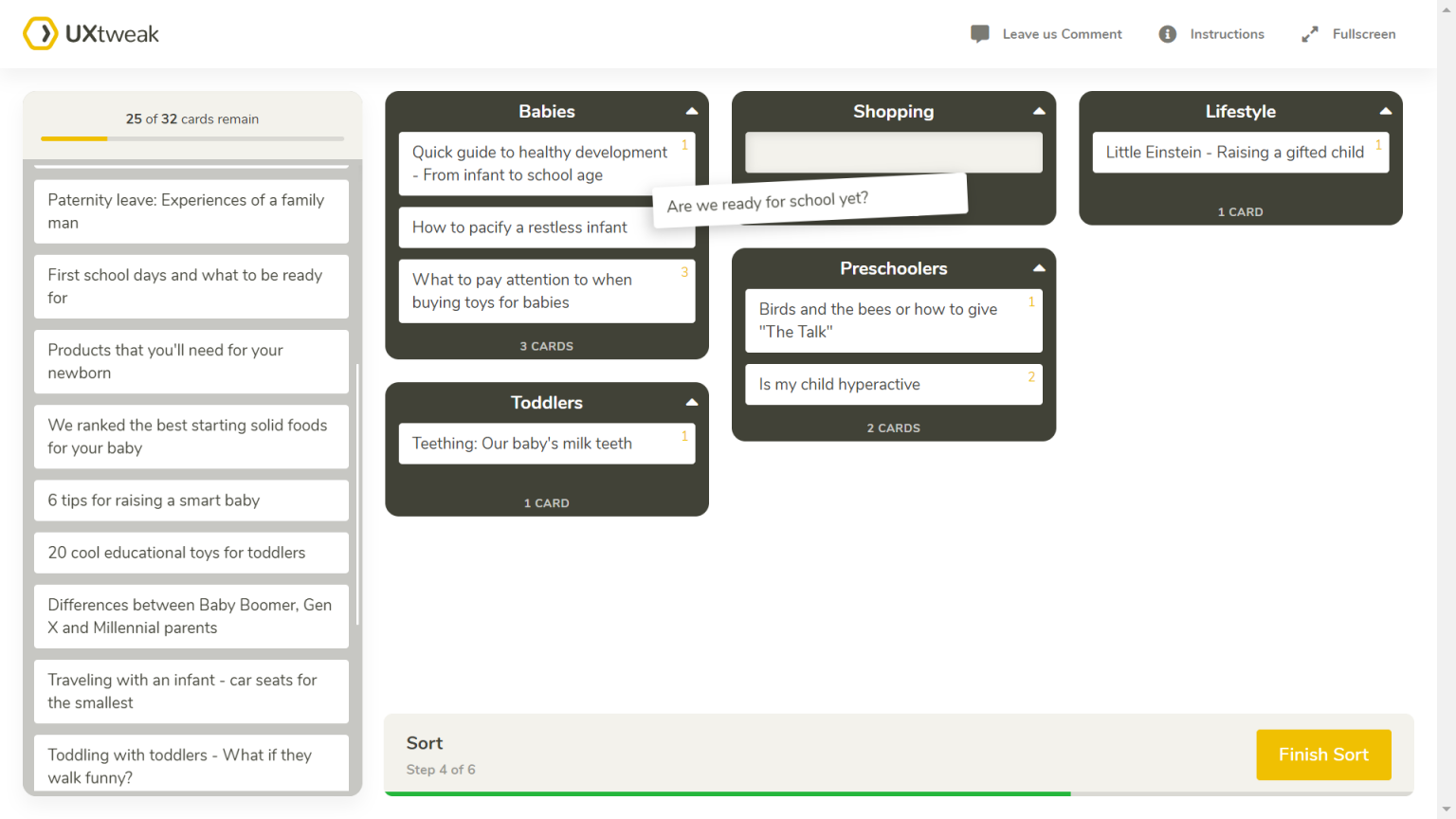 Once all cards are sorted, the respondent just needs to click the Finish Sort button to complete the study.
Check out our Card Sorting Demo studies to better understand how the study will look like from the participants' perspective and see examples of the results dashboard together with PDF reports:
Analyzing the results
After the study is finished, you can take a look at the results. Here you can find an overview of the study, the number of people who completed or abandoned it, the average time taken as well as locations of respondents. Here you can also see a detailed description of your respondents, including questionnaire answers, how they completed the card sort, and what kind of device they were using.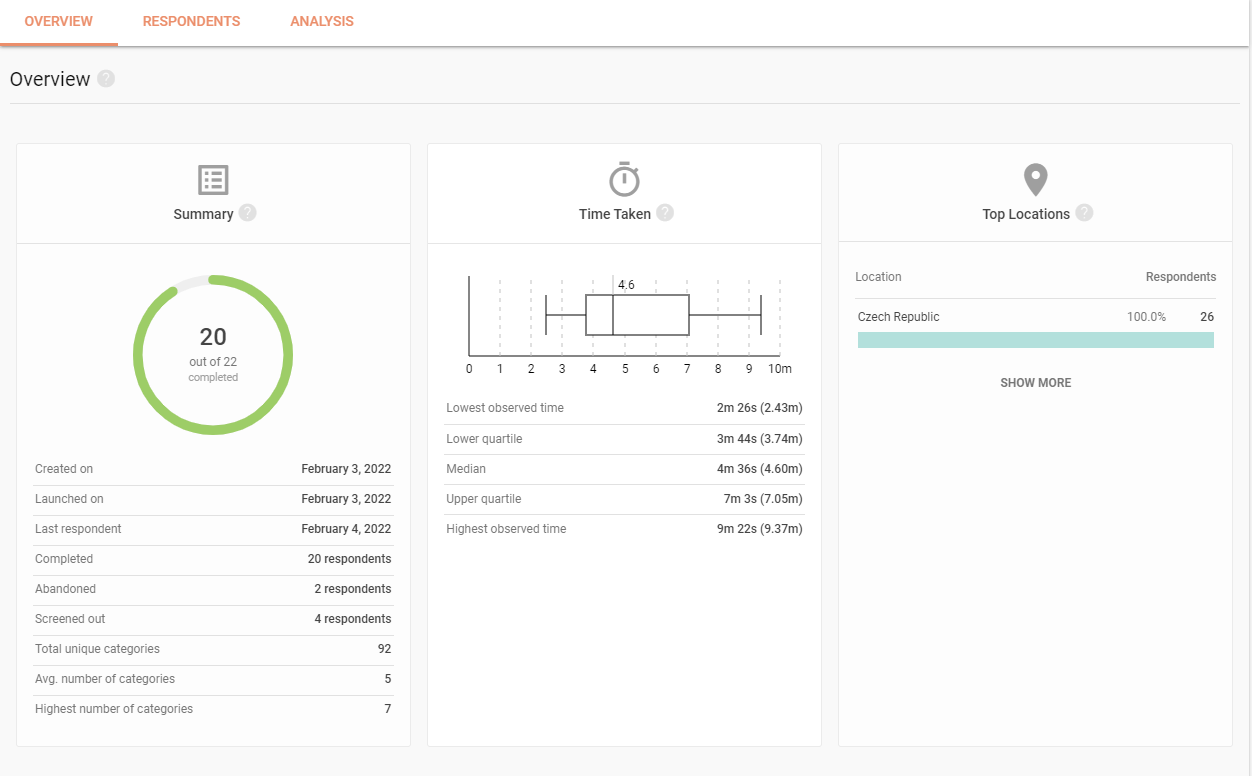 In the analysis section, you can see the card sorting data broken down from many different angles. The most basic one is seeing how the cards were categorized by my respondents as well as what categories the respondents have created. You can standardize categories from different respondents if you want to tell that the same category from different respondents represents the same concept.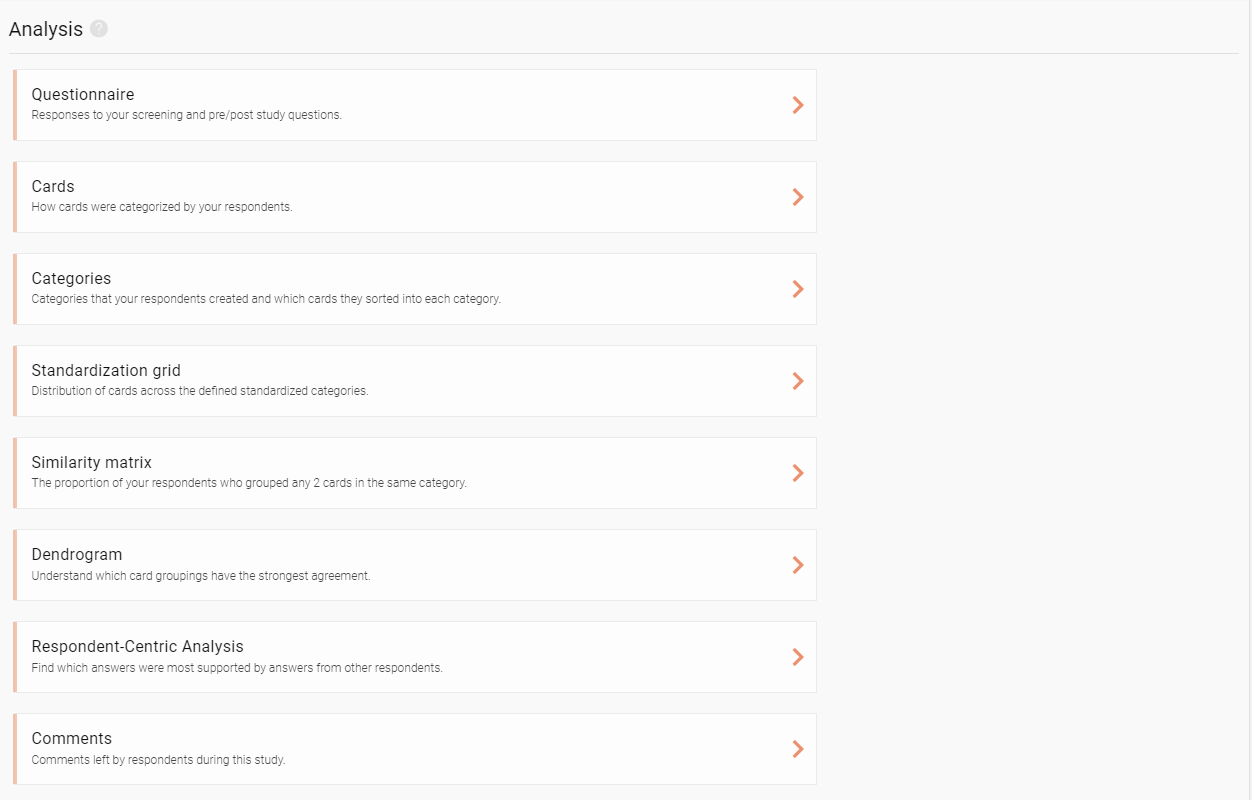 The standardization grid shows the number of times a card was sorted into a specific standardized category, which gives you a clear picture of where to put it. In the Similarity matrix and in the Dendrograms, you can see what cards were most often sorted together and get insights on potential groupings.
Similarity Matrix example: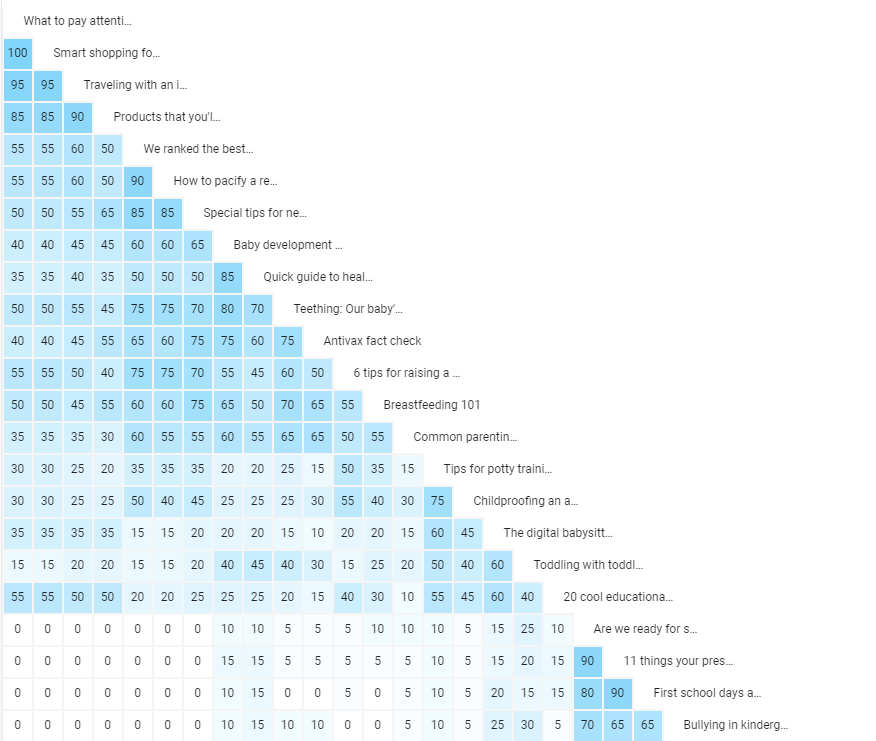 You can also generate a shareable PDF report of your study results, with all the data stored in one place. Here's an example of a card sorting study PDF report.
Closed and hybrid Card Sorting are analyzed differently and as such provide different analytical tools. Check them out for yourself in our closed and hybrid Card Sorting demos.
Learn more about how to analyze card sorting study results in our comprehensive guide!
Making improvements
After analyzing the results of this study we have everything we need to create an intuitive content structure for our online parenting magazine. It's time to rearrange the blog and make improvements! Register for your free UXtweak account and try card sorting yourself!