Every digital product is filled with all manners of content – information which it provides as value to its users. As a medium without content, the use of your product would be practically nonexistent.
Therefore, to make sure your product becomes a success, it's important to optimize the content so that it makes sense to your future users. You conduct content testing to see how well the content performs its role when viewed by real users.
What is content testing
Content testing is a research method used to validate the quality of your content and to find out whether it – the copywriting, the visuals, all the information – speak to your target audience correctly and comprehensively. 
Performed by people from all types of professional backgrounds, content testing helps marketers, content managers, UX designers and researchers determine if their representation of content is intuitive to the intended users. Users should either already have the information they need to process the content, or the content should provide the right amount of intrinsic context to be understood from observation.
Why you need content testing
There are several main reasons why it's important to perform content testing.
The first and the most obvious one, is to make sure that your content resonates with your users. Any kind of digital product, be it a website or an app, basically consists of content. Therefore, content is what determines whether the users will like your product or have no idea what to do with it.  
To create a successful product, it's essential to make sure that your users can understand it and also that they themselves feel understood.
By conducting content testing, you are able to find out whether your content is engaging enough, whether the product descriptions speak to the customer and whether the menu labels correspond with what users expect to find in the menu.
Content testing gives you an opportunity to improve your product's usability, readability, set the right tone of voice and even make your product rank higher in search engines. 
When to test content
The thing with content testing your product is that you need to perform it in the manner that induces testers to have the right context, so they approach your content the same as in a real-life scenario. You can't just ask users what they think about a menu label and expect the answers to be relevant without showing the context of where that label will be placed and what information can be found under it. 
However, needing sufficient context doesn't mean it should be a finished product yet either. You want to leave yourself a chance to improve and implement changes based on the insights from your content test. That's why we recommend performing several rounds of content testing during the design and development process.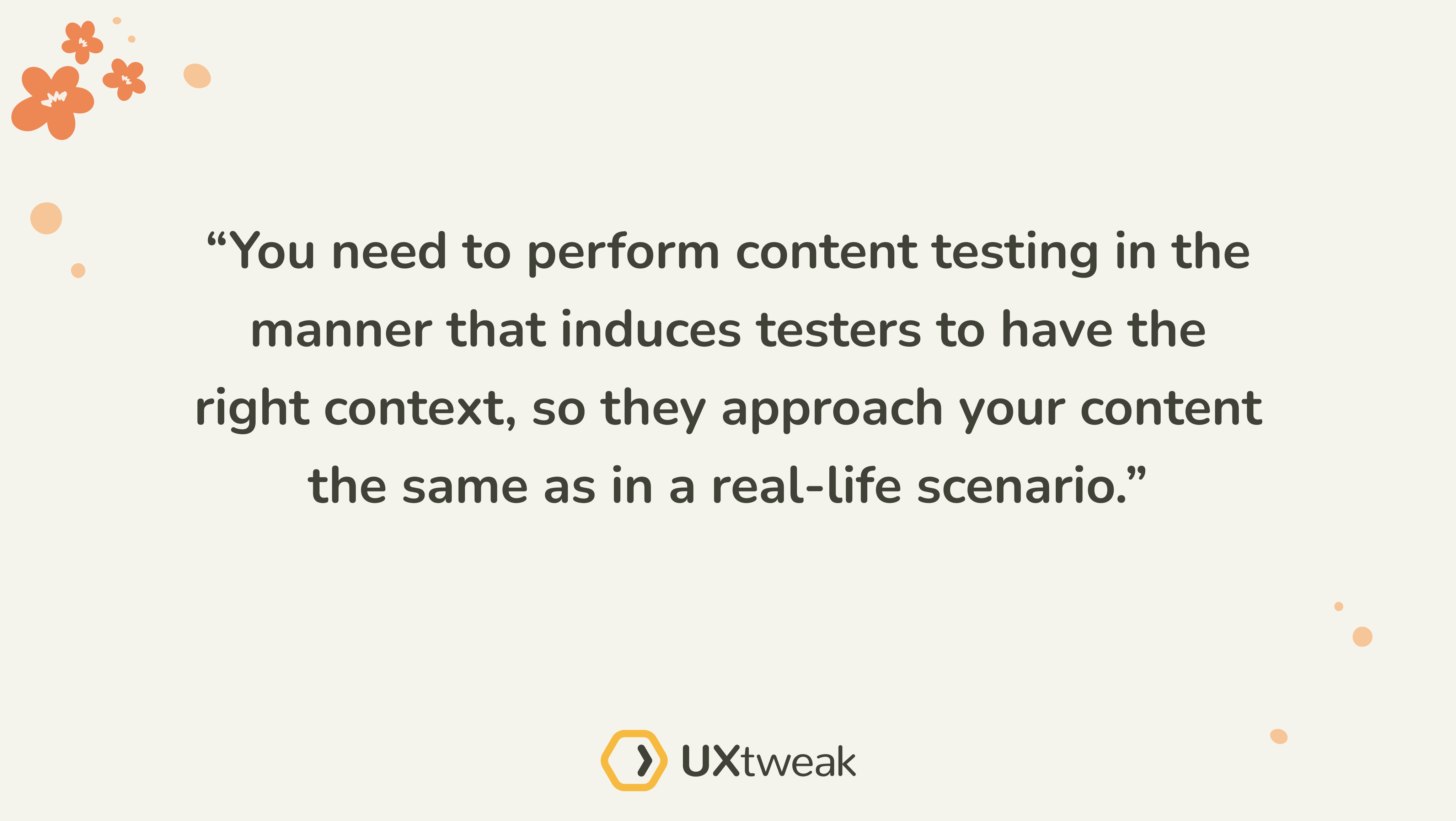 You can start at the early stages and use content testing to get the general overview of users' expectations and the types of content you're going to need. 
Then, as you start creating a prototype, conduct concept testing to validate previous ideas and hypotheses. With this approach you'll still have time to make changes and improve your content without having to spend a lot of time and money on it.
Before your product launches is a great time to conduct a final round of content testing to make sure all your content is perceived by users as it's intended. 
Content testing methods
There are a couple of different methods for content testing that you can use to find out what about your content works and what doesn't. 
Here are some of the most used ones:
Five-second testing

A/B testing

Highlighter method

Card sorting

Cloze test
We talk about each of these methods in detail in a further section of this guide titled Content Testing Methods. 
How to test content
You can perform content testing by following these 5 easy steps:
Define your goals
Choose the content testing method
Recruit the participants
Conduct the study
Analyze the results
Below we'll take a closer look at each of the staps and explain them in details.
1. Define your goals
The first thing you need to do in order to set your content testing in the right direction is to decide on your goals. 
What type of content do you want to test? What questions are you looking to find the answers for? Whom are you going to recruit as participants and why? Write all of this information down in clear statements so that you can come back to your goals at any time throughout the study when you need to make decisions.
Define a clear goal or two and focus on completing them with your future study. This type of approach will be very helpful later on, during the results analysis. It will also help you to focus on what's important and not get carried away by non-essential details. 
2. Choose the content testing method
The method you'll choose for your content testing will depend on the goals of your study, the type of content you want to test as well as the time and budget available to you. There are at least 5 different content testing methods for you to choose from. 
Check out the Content Testing Methods section of our guide to find the ones that work best for your current situation!
3. Recruit the participants
Recruiting the right participants for your research study is arguably the most challenging part of the task. But don't worry, we've got you covered. UXtweak offers 2 different ways to facilitate recruiting of participants for your study: the Recruiting Widget, which turns your website visitors into testers, or the 160M+ User Panel. 
Remember to recruit people that represent your target audience and future or existing users. In case you are targeting several different groups of people, it's a good practice to segment the study and recruit the respondents representative of all your target groups. 
For more information check out our UX Research Recruiting 101 article.
4. Conduct the study
Choose whether you want to conduct your research with the help of a specialized content testing tool or by yourself. It's also a major decision to determine if you are going to moderate your study. Moderated and Unmoderated tests both have their pros and cons, which you can find out more about in our Moderated vs. Unmoderated research comparison. 
Before you start in earnest and go live, don't forget to pilot your study on someone. Just ask a colleague, a friend or a family member. This will allow you to iron out easily preventable mistakes and avoid unnecessary confusion happening during the actual study.
5. Analyze the results
When data from all study participants has been collected, it's your time to analyze the results and implement the insights. If you were using an online UX research tool to test your content, it will process most of the data for analysis for you.