User Interface (UI) and User Experience (UX) are two disciplines that are sometimes misunderstood, since they operate together and have similar acronyms. Let's take a closer look at UI vs. UX comparison and define the difference between the two.
First, let's start with basic definitions.
What's UX design?
UX design involves design of the entire process of user's interaction with the product and their experience. It encompasses interactions, usability, functionality, design and branding of the product.
The goal of UX design is to remain user-centered and base all the design decisions on user research data, not just vague assumptions. 
Learn more about UX design.
What's UI design?
UI design (user interface design) is the process of creating a visually appealing interface for digital products, working on their looks, style and interactivity. It defines the aesthetic component of the product, its colors, responsiveness, typography and layout, but also the way it behaves and responds to the user's actions.  
UI design decides how the product will look and feel for the user, while making sure it also aligns with companies' branding and messaging. It also includes the creation of navigational elements, interactions, input controls and makes sure all the information on a website is presented in a clean, consistent and appealing way.
Visual aspects and, therefore, UI design is a big part of user experience and overall user's impression of the company, their products and services.
UX vs. UI: what's the difference?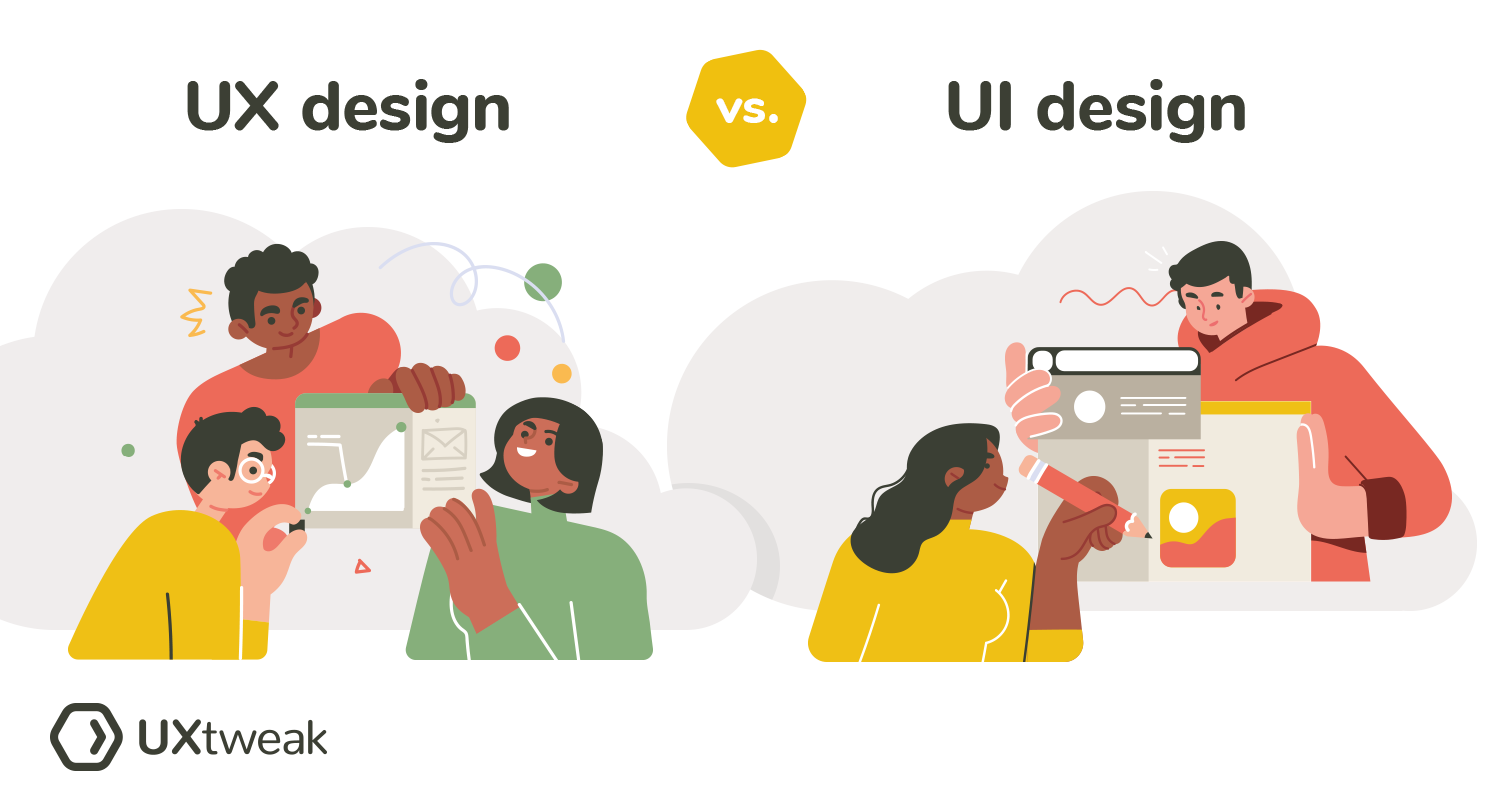 As we can see UX and UI design have different goals and focus on different parts of the user's experience with the product. UI design is largely responsible for the interface's visual elements, style and aesthetics, whereas UX design focuses on ensuring that user's navigation and actions are consistent, making the product intuitive and easy to interact with. 
UX design takes a more holistic approach and ensures the quality of the entire users' experience with the product, making it as intuitive and easy-to-use as possible.
In conclusion, UI design is an essential part of UX design, but it is only one part of the whole. While UI design focuses particularly on the look and feel of the user interface, UX design aims to provide a seamless and delightful experience taking into account everything it involves.
How do UX and UI design work together?
UX and UI design perfectly compliment each other in the process of creating a successful product. 
UX design process usually starts with user research and gathering information to support further design decisions. It takes care of the product structure, navigation and interactions in order to create a smooth path that guides users towards their goals. UX designers create wireframes and prototypes of future products, define user journeys and flows.
Once this process is finished it's time for UI designers to do their magic. They take over the product design and create a visually appealing interface, deciding on its colors, fonts, iconography and other visual elements. They take care of the responsiveness of the product and make sure the design is aligned with the branding and other guidelines.   
In essence, UX and UI design collaborate to develop a product that will not only be beautiful and visually appealing but also functional and easy to use.
What does a UI designer do?
A UI designer's responsibility is to create a clean, beautiful interface of a digital product that will be appealing to the user, in touch with the branding, but also intuitive and easy to interact with. They take care of the product's design as a whole as well as individual pages and features and how they look together. 
Here are some of the things UI designers usually work with:
Spacing

Color palettes

Typography

Layout

UI elements (such as buttons, icons, menu items and others)

Responsiveness and accessibility

Transitions, animations
What skills do you need to be a UI designer?
When applying for a job as a UI designer, you'll be required to master the following skills:
Wireframing

Prototyping

Branding, typography, color theory, style guides

Interaction design and information architecture basics

Working with prototyping tools like Figma, Adobe XD, InVision and others.

Collaboration
How to get started as a UI or UX designer?
Getting started with a design career can seem challenging, but is actually quite rewarding after all. This career path offers a lot of space for creativity and career growth. UX and UI design also give you an opportunity to take part in the creation of meaningful products and services.
But how to enter this field?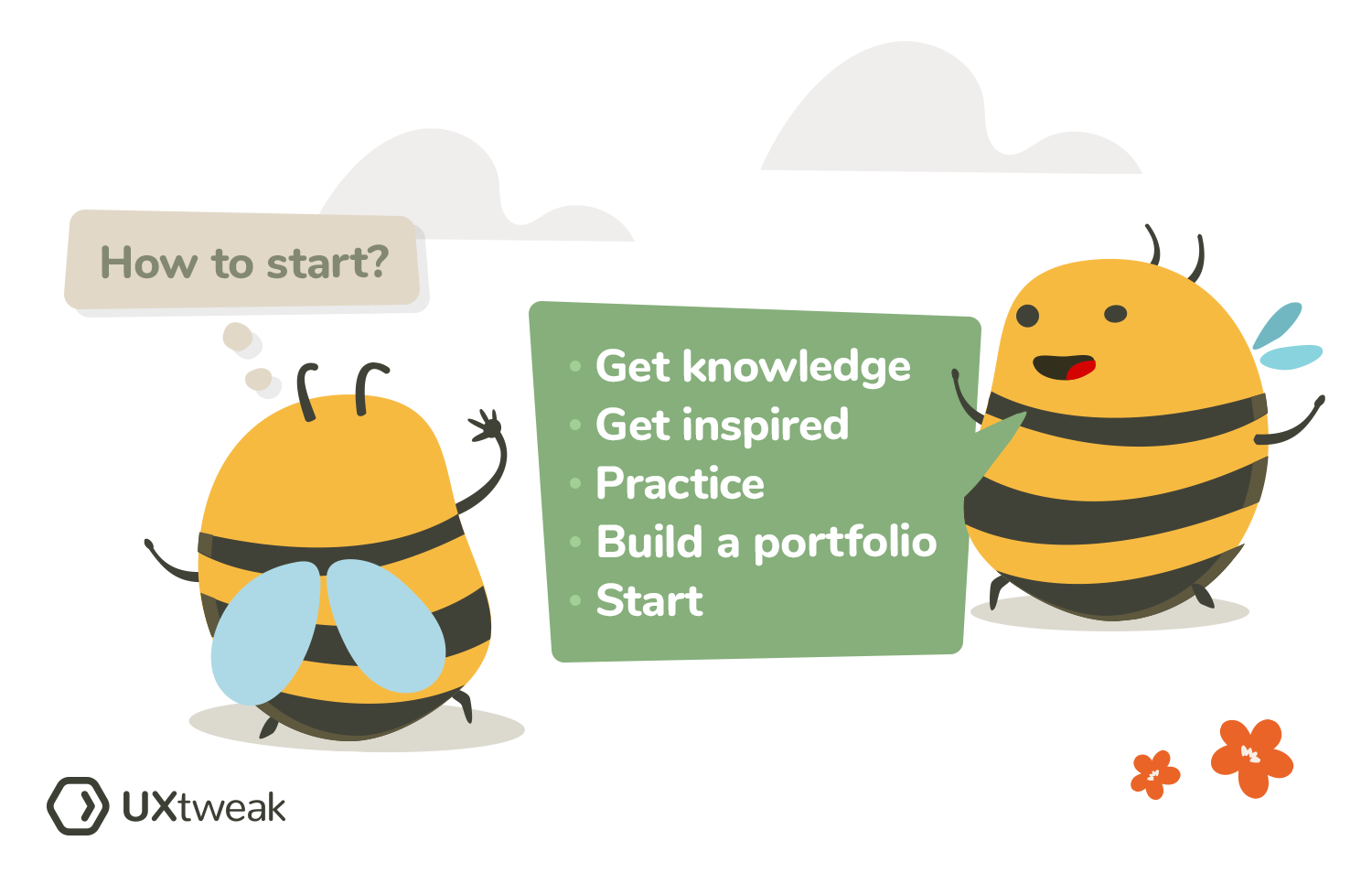 Here are some steps you need to take in order to start your UX/UI design career:
Gather knowledge:

learn as much as you can about design principles, human psychology of dealing with products, interaction design and others. There are tons of

UX resources

for you to go through.

Attend courses and bootcamps that are available online or in your city, many of them are actually free. Familiarize yourself with popular design and research tools such as Figma, Adobe XD, InVision and UXtweak.
Get inspired:

follow the latest design trends, look for designers and

UX influencers

on social media, attend

UX conferences

. Read case studies and look for design inspiration on websites like Dribble or Behance. 

Practice:

Start doing projects on your own. The more you practice, the more you learn. A great way to do that is to participate in design challenges or just make up project ideas yourself.

Build a portfolio:

gather all of the projects you worked on and put them together in a fancy portfolio. Tell future hirers about yourself by showcasing your work and skills.

Start applying to entry positions:

Apply to internships of Junior positions to gain more experience. Don't forget to network and connect with other designers, you never know where an opportunity could come from!
Wrapping up
We hope this little comparison helped you to shed some light on the differences between UI and UX design. Both are essential when it comes to creating a user-centered product. And both are great career options for someone who's looking to enter the design field. Learn more about UX/UI design in further pages of this guide.