UX research by itself, involves gathering information about target users and their needs in order to provide realistic contexts and insights into design processes. UX researchers apply a range of methods to uncover important facts that can be included in the design process in order to identify challenges and design opportunities. 
According to the Interaction Design Foundation (IDF), UX Research is about discovering insights that will guide effective designs. And, in order to carry out this method efficiently and provide appropriate results, you need a well-thought-out plan.
Table of Contents
Note: While there are nuances between UX (user experience) research and user research, in this article we will be using UX research and user research interchangeably.
What is a UX research plan?
A UX research plan is a document that contains all the important information regarding your planned UX research in one place. It serves as a roadmap for all UX research in your project. It explains the methodology of how the research will be carried out, the types of studies, information about respondents, timing etc.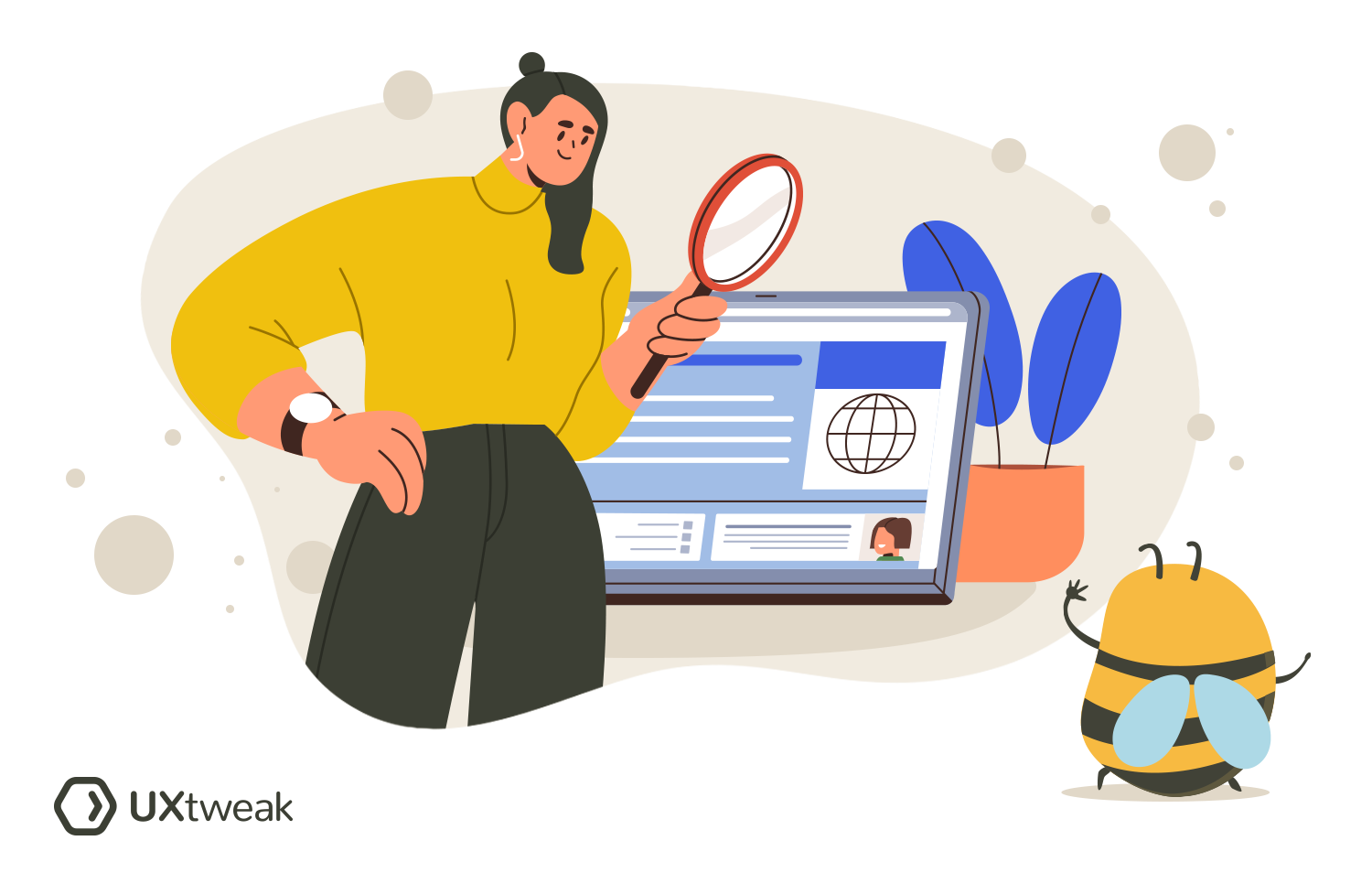 Why do you need a UX research plan?
The goal of creating a plan for UX research is to facilitate the process of managing your UX studies, make it easy for you to keep track of results as well as create a clear research strategy that you can follow. 
The amount of information you obtain and analyze during UX research studies may sometimes be overwhelming, so it's very easy to overlook and even forget important details during the process. Don't lose track of the bigger picture. A well-maintained UX research plan will store all the key information for you, meaning you can refer to it anytime you need it.
Aside from just saving your memory, there are a number of other advantages to creating a UX research strategy.
What are the benefits of having a UX research plan?
Aside from saving you from keeping everything in your head, a user research plan also has some other significant benefits, such as: 
1. Helping you stay focused on the goals
Without a clear plan, it may be difficult to make sure that your user research collects the right type of data at the right moment in time. All information about users may seem important, so it's easy to get distracted. A crucial part of your plan is defining clear goals that will help everybody involved in the research stay focused and work towards the bigger picture. It assures everybody stays on the same page and helps to avoid going into unnecessary details. 
2. Engaging stakeholders in the process
Another big benefit of having a UX research plan at hand is the ability to engage stakeholders in the project. With all the information being stored in one document, it's easy to update them on the progress, insights, and completed goals. 
Describing the objectives of your study in your plan is also an excellent way to demonstrate the value of UX research and keep stakeholders invested in the process. A stakeholder with a focus on specific areas of the project who isn't up-to-date on all the details will appreciate it if you can point them to past findings relevant to their inquiries or future parts of the roadmap, so they know their concerns are already accounted for.
3. Keeping track of the results
Your UX research plan will function as the roadmap for all the UX research in your project, providing a handy overview of what has already been done, as well as what is yet to be researched. UX research produces a quantum of data, so as time passes it becomes essential to be able to refer to your previous findings and monitor your progress.
Most importantly, a UX plan allows researchers (or whoever else is conducting the research) to concentrate and ensure that they meet the research plan's objectives in the most effective manner possible.  
User research plan template
To save you some time, we created a simple User Research Plan Template which you can copy and adapt to your own research.
It contains everything a user research plan should include. Read the next section, where we will explain in detail what your one-page plan should contain and why.
What should your UX research plan include?
According to the Interaction Design Foundation, it's good to start your research from a one-page plan. This way, you'll be able to keep your plan short, simple, and easy to understand to stakeholders, even if they are people who aren't completely involved with your study.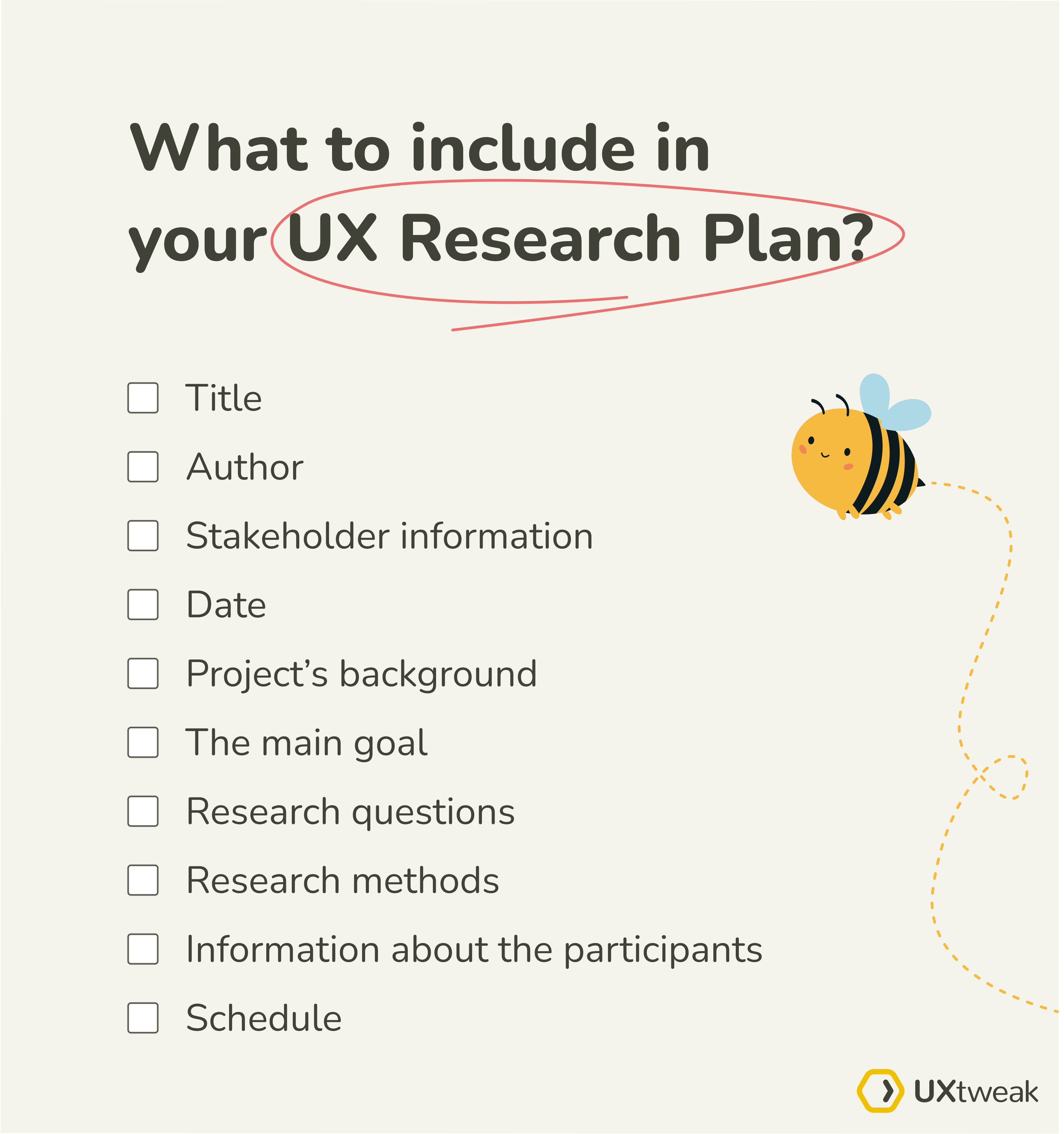 Title

–  Every good project needs a name. Include the title of the project you're working on in order for it to be identified.

Author

– Add the name and contact of the person in charge of executing the plan. You may also include names of other persons to whom readers can send their feedback and inputs about the contents of the document.

Stakeholders information

– Everybody involved in the study and all the people you'll be sharing your research with. Include their roles and contact details. 

Date

– When the project has started. It's also important to include revision dates so that everybody is aware of all the updates.

Project's background

– This should be a short summary paragraph where you explain your motivation – the reason why the research is being conducted, what are the problems that need to be resolved, and any other important background information to provide the reader with the required context.  

The main goal

– Explain your main objective in 1 sentence. What are you trying to achieve with your research? Keep it short and clear, try to choose a single most important goal instead of a number of small ones. 

Research questions – What are the questions that you're looking to get answered in your research? Writing them down will assist you in determining the research method you will use, what questions you'll ask participants during the research, and what you'll want to focus on while analyzing results. Planning your research questions helps you make sure you don't forget anything important and that your UX research design corresponds well with your goals. Learn How to ask good questions in usability testing.
Research methods

– There are

tons of qualitative and quantitative methods to choose from

. Include the ones you're going to use in your studies, specify if it's going to be moderated or unmoderated and how long it will take. 

Information about the participants

– In this part of your plan, define the target audience of your research (age, gender, potential customers/existing customers…) and specify where you're going to recruit them. How many participants do you need? Is there one group or multiple segments?
Schedule

– Make a schedule of when each study is going to be conducted as well as an estimation of how long the whole research process is going to take. It's good to also add milestones to indicate the progress and see when each activity is due.

Supporting information

– if there is any other relevant data that can influence the research project, don't forget to mention it as well.
Tips for your UX research plan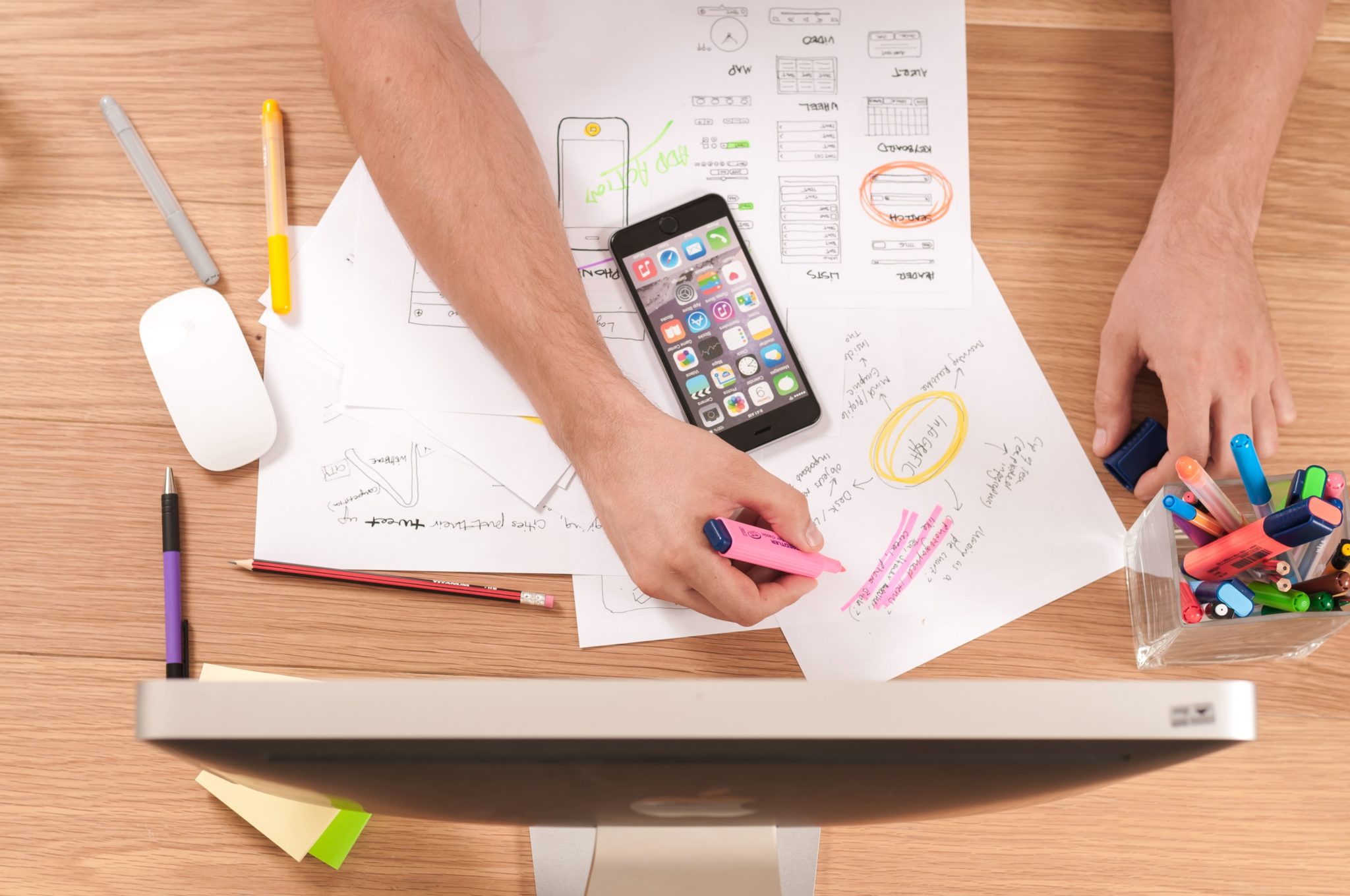 A UX research plan that you and your stakeholders prepare together is key to a successful start of a UX research project. Here are a few things to consider to make you and your stakeholders come to an agreement.
Gather all your common knowledge, agreements, and understanding of what will occur, why, with whom, and when in a couple of sentences that will represent your main objective.

Set the right expectations for all stakeholders, and make sure your research plan is focused on the main goal.

Keep the plan short and simple so that all of your stakeholders can understand it. You can work from a more detailed plan, but for your stakeholders, the Interaction Design Foundation recommends a

One Page User Research Plan

.

Make the UX research plan a team effort by incorporating all team members so that everyone understands it.

The list of questions you're aiming to answer is at the heart of the user research, choose the appropriate ones and avoid bias.
Examples of a good user research plan
To give you a better picture of what your plan should look like, we found a great user research plan example on the web. It's a research study conducted by user researcher Shivang Patwa for the company called "InstaCar".
This document perfectly describes every step of the research process and provides all the needed information for everybody involved in the study.
What's next after your user research plan?
Once you're done with the user research plan consider how you'll deliver the results of your study to your stakeholders and team. During the session, tell an engaging story and include quotations and videos from your participants to help stakeholders understand the effect of your research. After all is said and done, store your insights in a way that anybody can access and understand at any time. This will guarantee that your research leaves a lasting effect on your team and project.
Ready to get started?
Now that you've finished your user research plan, you can rest comfortably with a strategy for getting information from your users that will help you design your projects. 
To get started with your user research, UXtweak is a user research tool that can help you with everything from recruiting participants to running your study. We even have resources to help you get started, such as how to motivate people to attend your research. Create an account today and get ahead of your competitors with quality user research!