Whether you are just developing an app and want to test the demo version, or you wish to evaluate the usability of an existing live app, mobile usability testing tools are the help you need. They allow you to test the mobile UX easily and remotely, with no need to gather UX researchers and testers in a full-fledged UX lab.
We've prepared a list of some of the best mobile usability testing tools on the market today, to help you choose the right fit.
👇 Without further ado, here they are.
Top 10 mobile usability testing tools:
For each of these mobile UX testing tools, we evaluated the pros & cons and the pricing.
Here is a quick review comparison table, before we get into details:
| | | | |
| --- | --- | --- | --- |
| | | | |
| | | | |
| | | | $399 – $999/month (or $49/participant) |
| | | | |
| | | | upon request, starts at around $30.000/year |
| | | | |
| | | | |
| | | | |
| | | | |
| | | | |
| | | | |
The reviews are taken solely from Captera or G2 (marked*).
1. UXtweak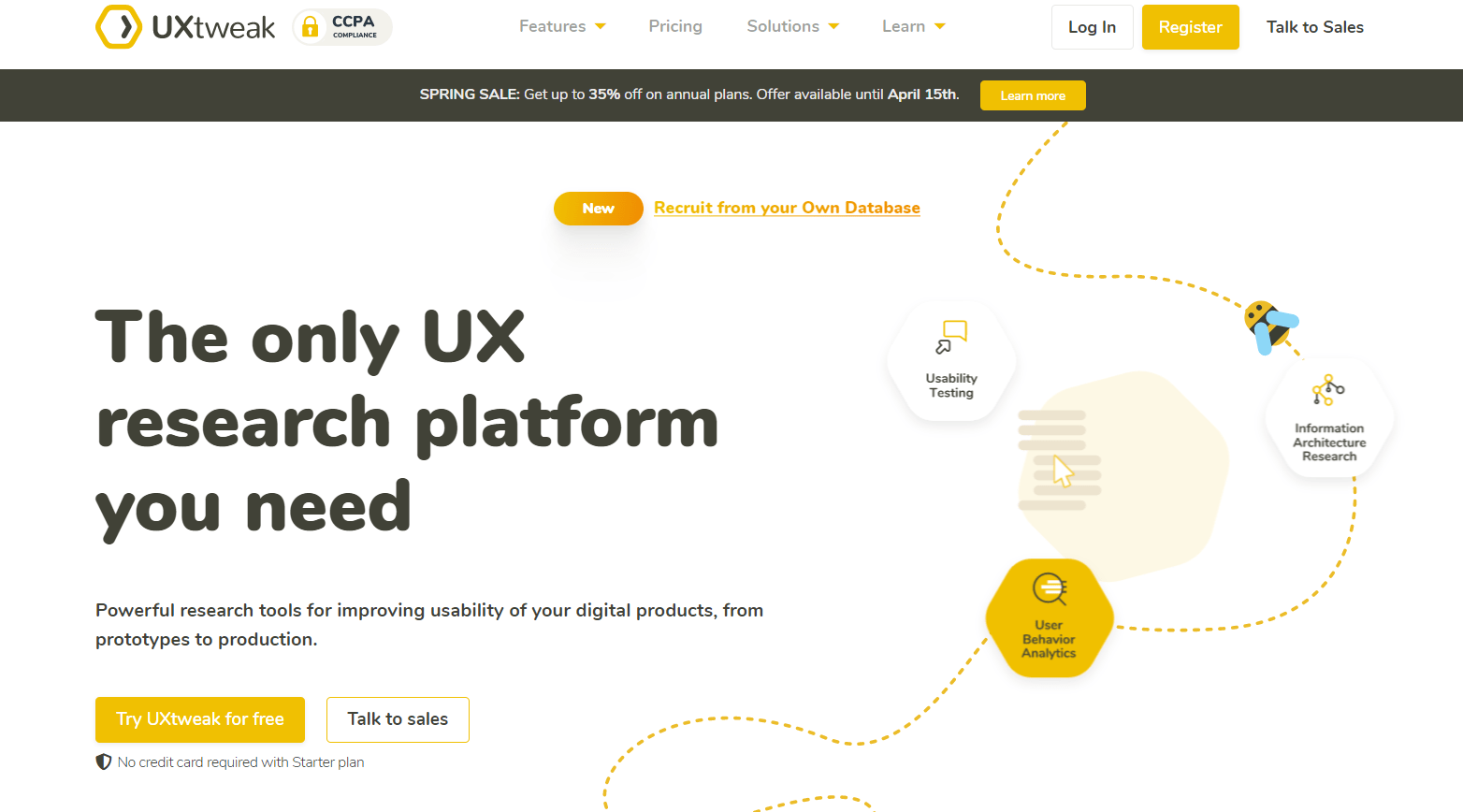 UXtweak is an all-in-one platform for remote usability testing on mobile devices, that allows you to easily test mobile UX with its specialized Mobile Testing tool. This tool streamlines the process of testing and makes it a pleasant experience for both you and the end tester. 
All you need to do to conduct mobile usability testing is to set up your study in the UXtweak web app! Participants can enter the study by simply opening a link. UXtweak will guide them through all the steps, such as downloading the UXtweak app – and yours as well. No SDK installations are required. Test your users immediately.
You can test a mobile app, its demo version, a prototype, or even a mobile version of any website.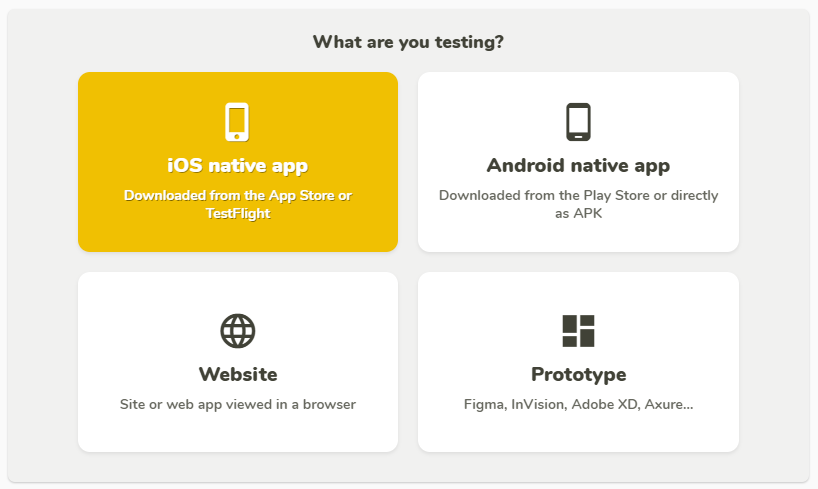 Give users tasks and watch them interact with your mobile app while getting insights into their behavior. Do they solve the tasks in line with your expectations or do they go off track? Screen and voice recordings will show where users get stuck, how they think about what they're seeing, and if they even become completely unable to finish the tasks.
Pros: 
Multiple recruitment options:

Onsite Recruiting

widget, 155M+

User Panel

,

Own Database

for managing your own tester pool, or via URL

An extensive list of other features to complement your mobile usability testing activities

Deep analytics that are easy to understand

PDF reports

Quick setup and intuitive UI

Free plan for small projects
Cons: 
Only 14 languages are supported
Pricing: UXtweak offers a free starter plan for trying out the platform on small projects, which you can register for here. Paid plans start from 80€/month. Customized pricing is available.
2. Userlytics
Userlytics is a usability testing platform that helps you gather qualitative and quantitative UX insights into your users' behavior. The platform also offers you an option to recruit from their User Panel which has over 1M participants.
With Userlytics, you can test users without making them exit the target app and record their facial expressions while they go through the mobile test.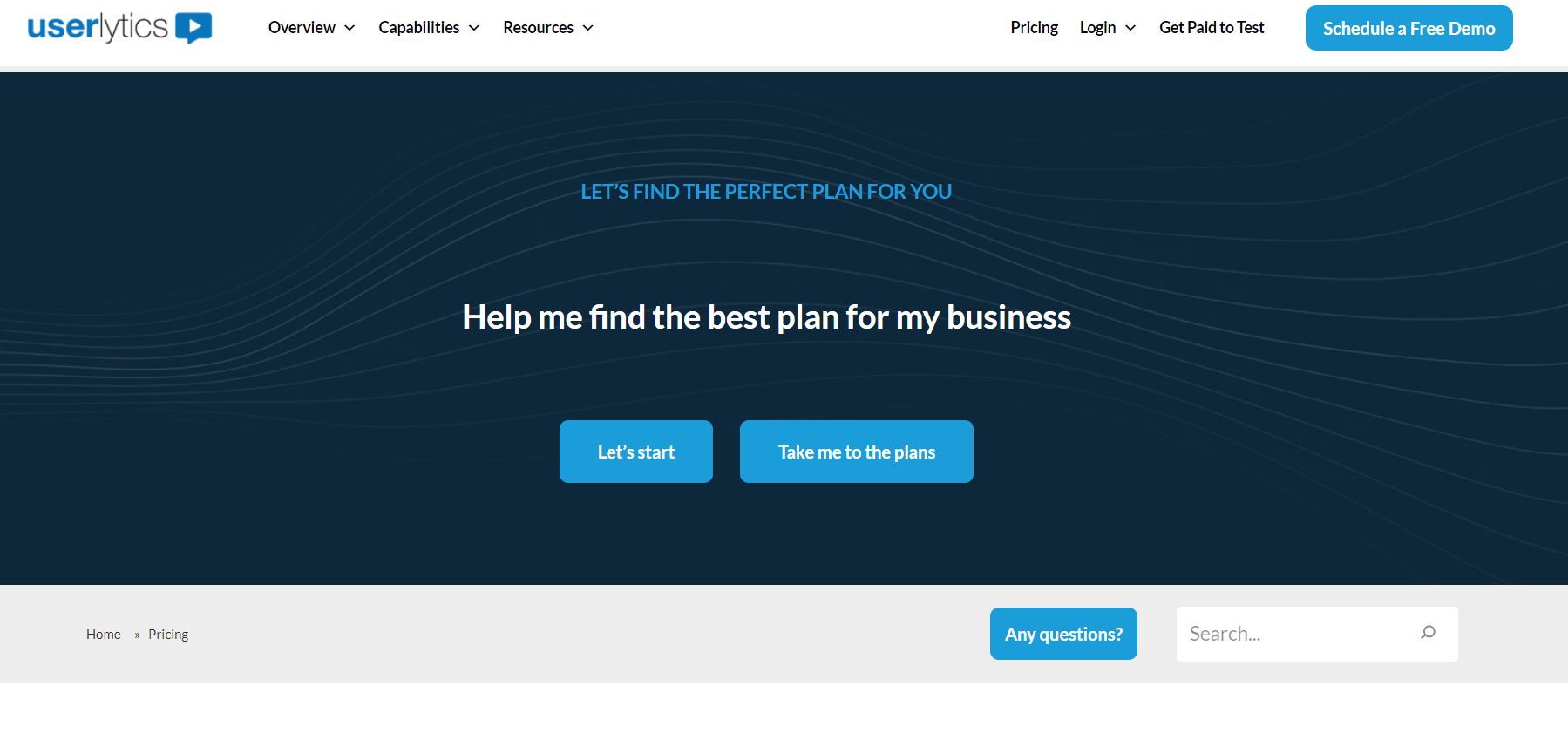 Pros:
Easy and quick to set up user testing for mobile apps

Prompt and knowledgeable customer service
Cons:
Limited analysis capabilities

No free plan is available

Pricing may seem too high for those on a budget
Pricing: A free plan is not available. Userlytics has a pay-as-you-go pricing model. Paid plans start from 49€/per participant. The cheapest subscription is 399 €/month and billed annually.
3. Validately (now UserZoom GO)


A new company, used to be known as Validately but was recently acquired by UserZoom. It's a UX research tool that helps you analyze and improve the user experience of your products. Both moderated and unmoderated usability testing are available through UserZoom. UserZoom GO offers mobile app testing as one of their features.

Pros:
Wide variety of tools

Unlimited screening questions
Cons:
No free plan available

Quite pricey in comparison to some other choices

The platform's user interface is quite complex, making it a poor choice for total beginners.
Pricing: Because UserZoom is mostly aimed at large businesses, its solutions can be quite expensive. UserZoom GO is available at a monthly fee of $250. Even though there is no free plan, they do offer a free trial.
4. UserTesting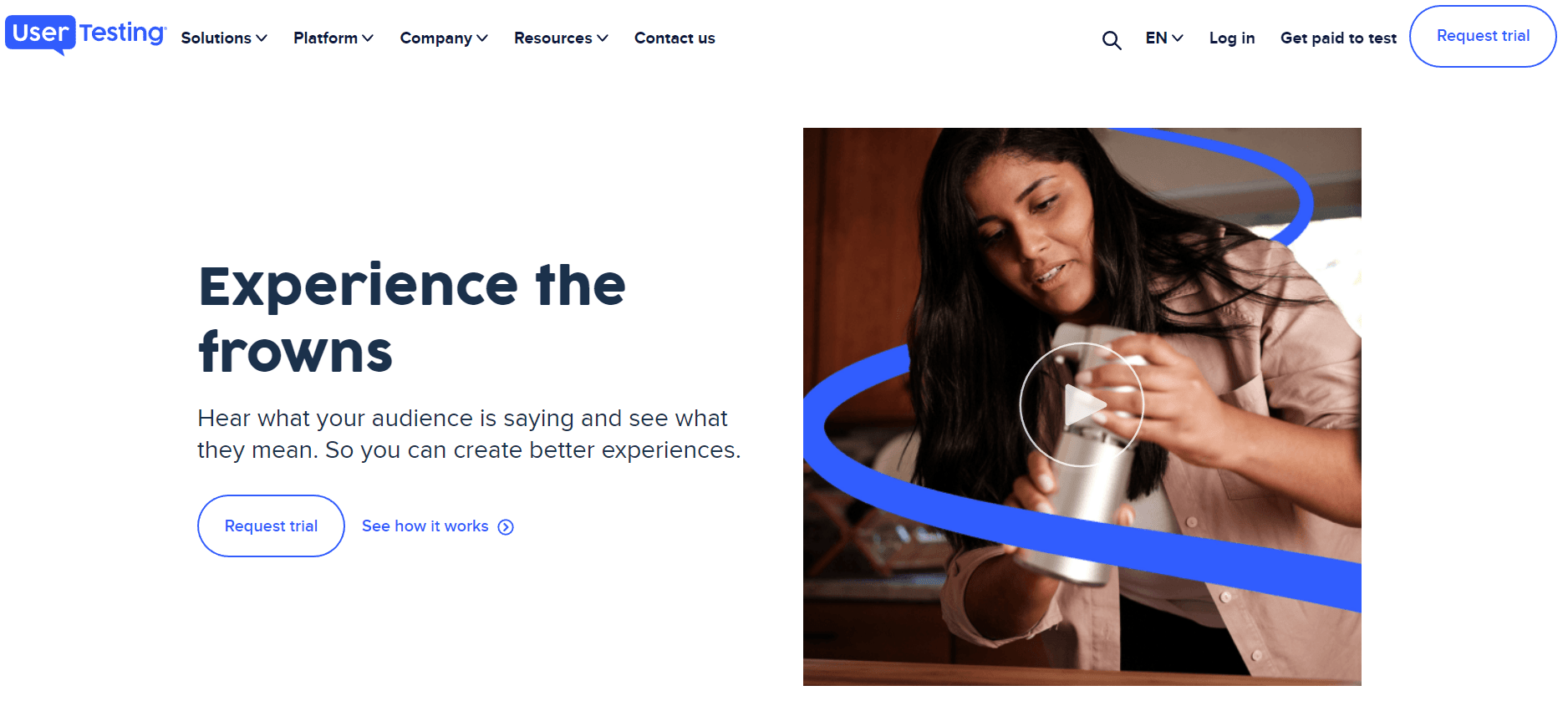 UserTesting is a platform that provides UX and product designers, marketers, and executives with a variety of usability testing options, including one of the best mobile usability testing tools. They've been around for quite some time and are known for their large respondent pool. 
They promise mobile testing with no SDK installation, in a fast and easy way.
Pros:
Cons:
You cannot bring your own testers for free

Some users claim that UserTesting results are tough to comprehend and evaluate, which makes it challenging to quickly consolidate data

No free plan is available
Pricing: Their pricing is accessible upon request and is primarily aimed at large corporations and big to medium-sized businesses, starting at around $30,000/year.

5. Loop 11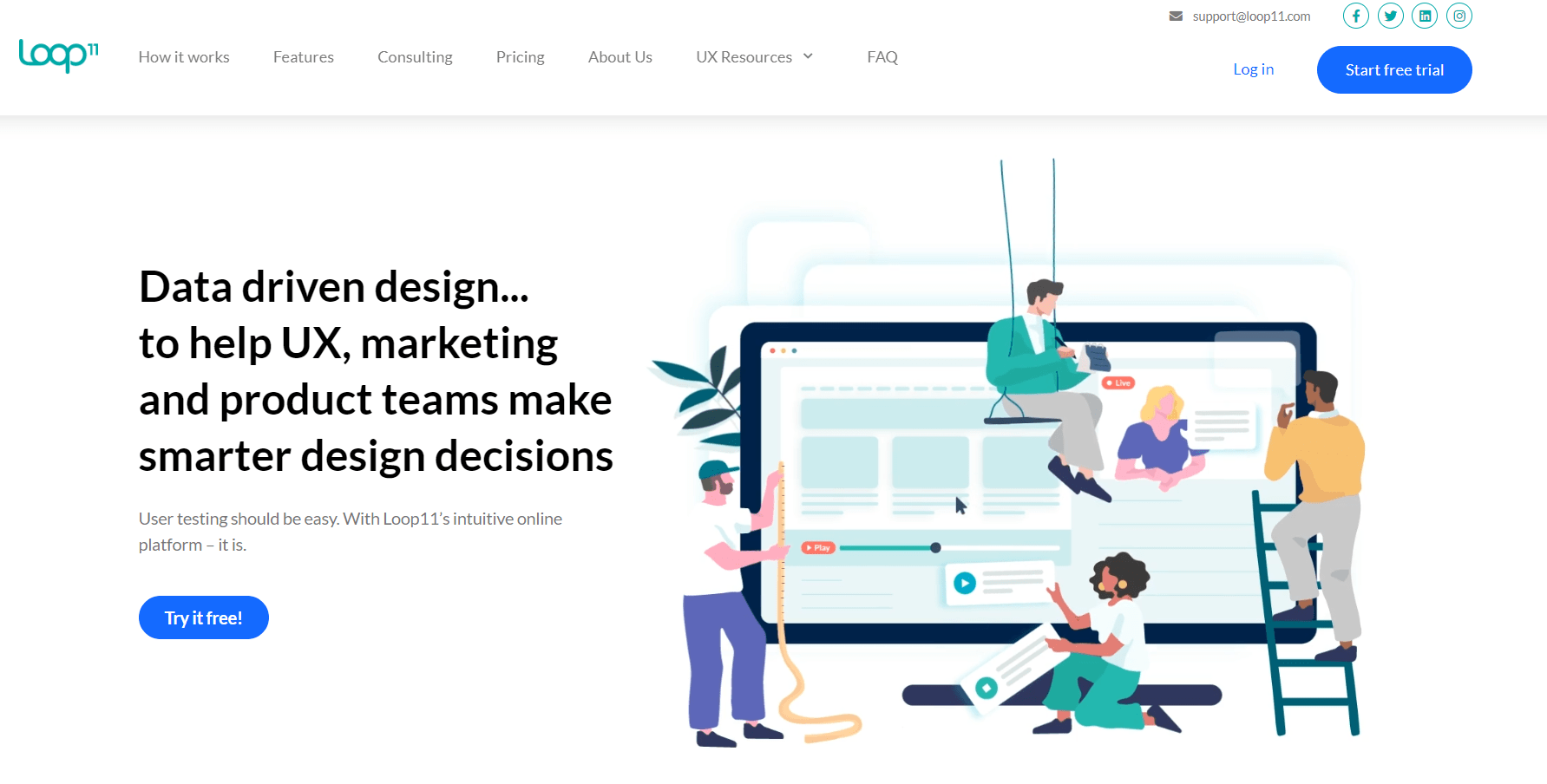 Loop11 is a multifaceted UX research tool that was developed in Australia. To gain insights into mobile user behavior and engagement, the platform enables testers to create specialized tasks and questions focusing on the target audience.
Both moderated and unmoderated tests, benchmarking, A/B testing, and other tools to help you analyze your users are among its features. With the help of this platform, it's simple to interact with users, do mobile app UX testing, and gather information for UX specialists.
Pros:
Advanced filtering and analysis methods

Through integrations with a variety of third-party tools, the platform also enables users to merge information from multiple sources for deeper insights



Cons:
Lengthy loading times

No free plan

Lack of screening questions
Pricing: When compared to some other well-known platforms on the market, Loop 11's pricing is quite high. There is a 14-day free trial available, but all subsequent tests will cost money. Given that it only permits 3 tests per month with a maximum of 10 participants for each of them, the basic plan's monthly cost of $63 is excessive. 
6. Lookback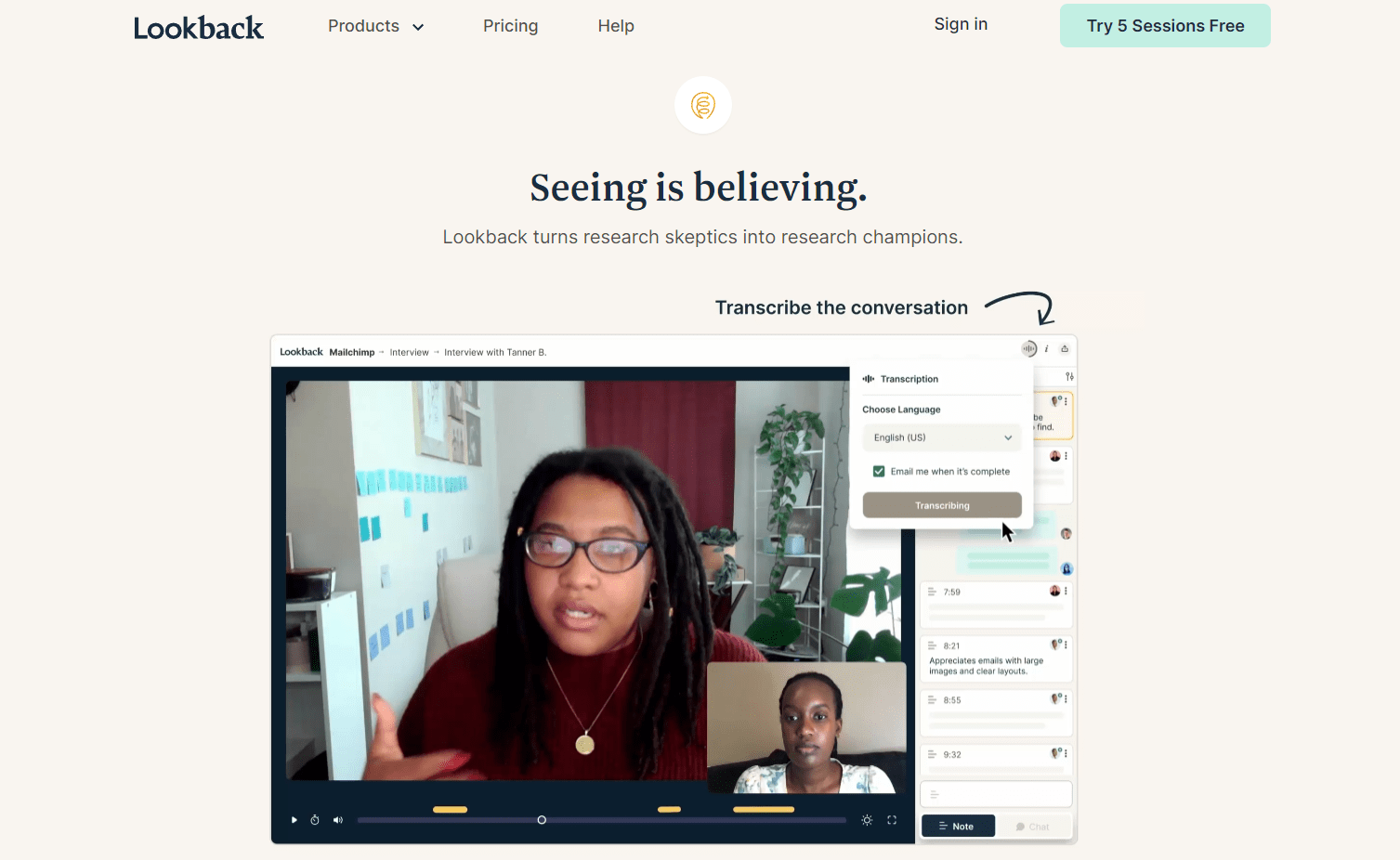 Lookback is a user testing tool that facilitates screen sharing and discussions with customers for businesses. Supervisors have the ability to broadcast, pause, or resume sessions as needed and share personalized welcomes, instructions, and closing statements with participants. It is one of the best mobile app usability testing tools.
Businesses can access session records using Lookback from a cloud-based platform and invite stakeholders or coworkers to watch interviews in real time. To obtain visibility into user habits, app usability trends, and onboarding difficulties, managers can create highlights and share them with team members.
Pros:
Lookback enables several individuals to view and even record your studies

Unlimited participants



Cons:
Lookback may only be the right tool for you if you already have participants for your research, as they do not provide any help in this area

Rather unsatisfactory customer service

No free plan

Pricing: Lookback offers a free 14-day trial but does not have a free plan. Beyond that, they charge $99 per month with a cap of 100 sessions per year. The monthly cost of their professional "Insights Hub" subscription is $229.
7. Playbook UX


A user-testing platform called PlaybookUX allows for the collection of video-based feedback from the target market on mobile applications, websites, prototypes, concepts, and more.
It gives users the ability to construct a series of tasks, which they then send to the testers who complete them live on camera. With only one click, managers will be able to swiftly set up a user test using PlaybookUX.
Pros:
Fast client service

High standard of participants' specific demographic filtering



Cons:
No free plan

Limited analytics capabilities

Customers of this platform have had technological problems, with many becoming quite upset by glitches on the website 
Pricing: Scale plan pricing begins at 441€/month (annual billing), with a Grow plan starting at 228€/month (annual billing). You can also use the pay-as-you-go option, which will cost you $49.00 for each feature. PlaybookUX offers a free trial version of the Grow plan.
8. UXArmy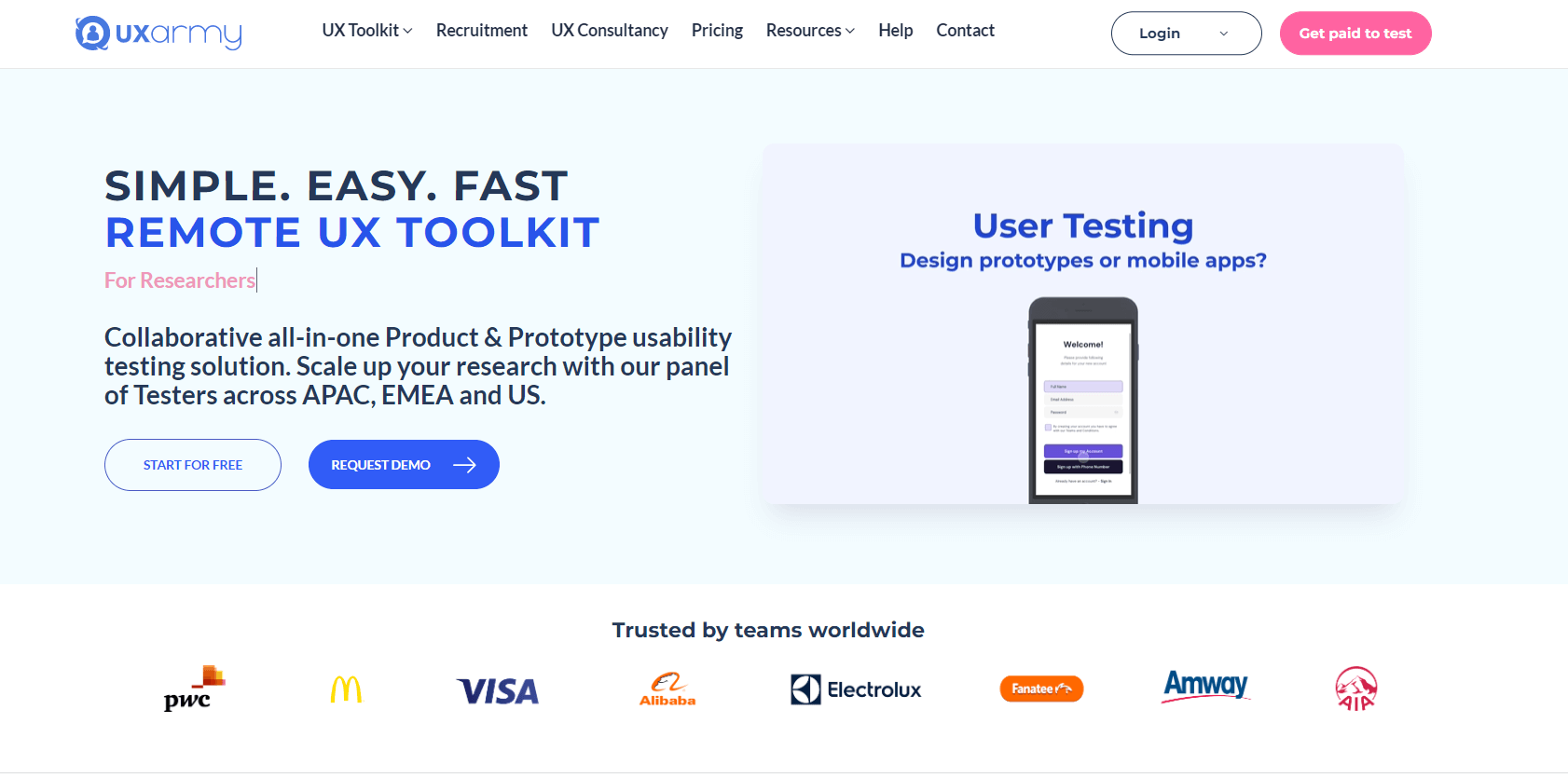 UXArmy is a Singapore-based UX platform with a good mobile usability testing tool. They offer moderated and unmoderated testing of mobile apps – both live apps and beta apps. You can also test mobile app prototypes imported from Figma or Invision with their prototype testing tool.
Pros:
Great Asia-oriented participant panel with lots of filtering options

Quick replies from customer care

Ability to bring your own testers
Cons:
The Asia-oriented participant panel could be an issue, if your tests require participants of different demographic backgrounds

Study previews are not available

The UI can sometimes be unintuitive 
Pricing:
With UXArmy's pricing model you pay for a specific tool, not the whole platform. For unmoderated mobile usability testing, you can expect to pay from $59/month to $399/month. Access to moderated mobile testing starts at $49/month for 16 sessions. For a tree testing and card sorting tool, you will have to pay extra. A custom enterprise solution is available.
9. UsabilityHub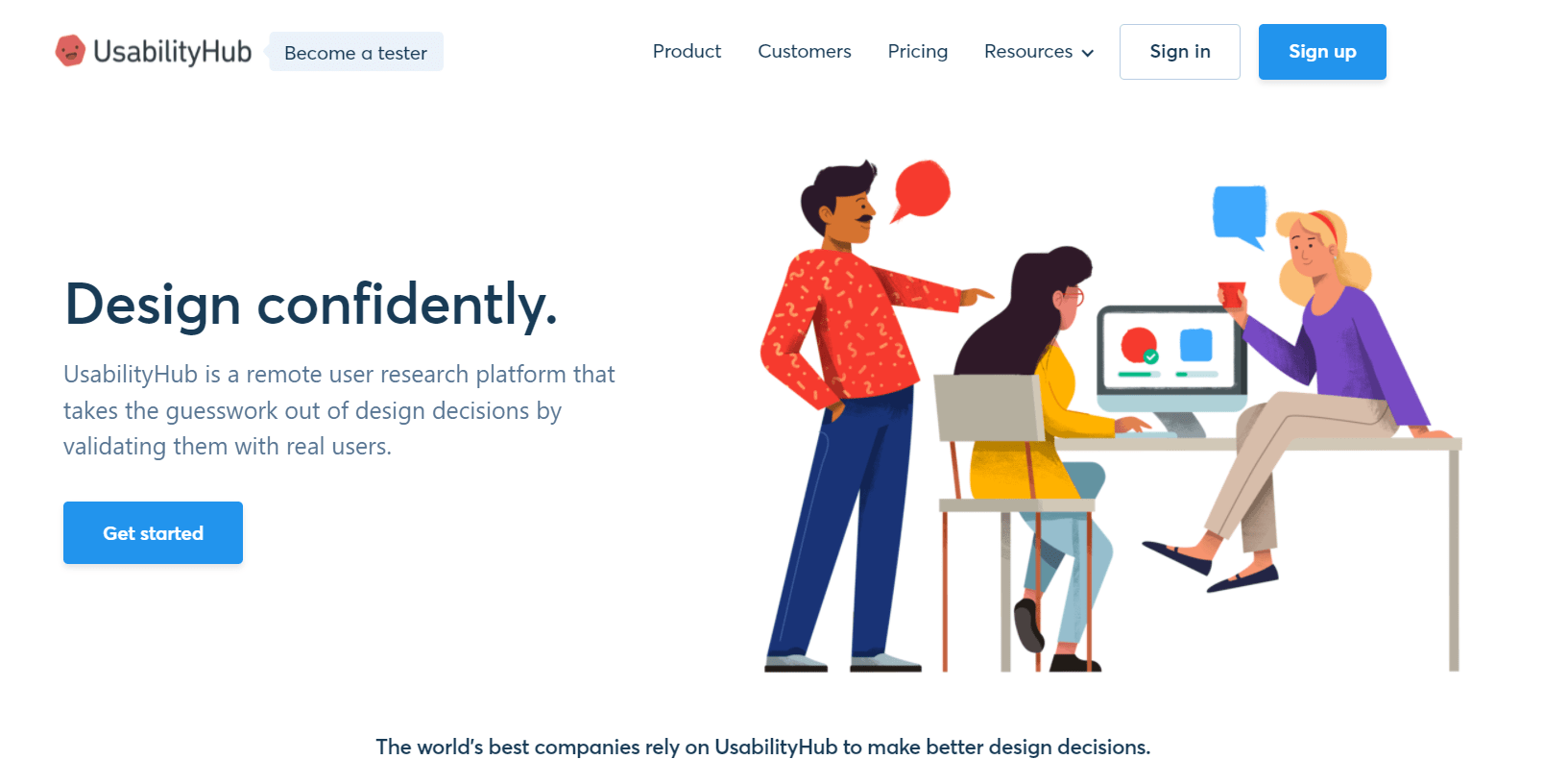 A UX research platform that offers a remote solution for first-click tests, preference tests, surveys, card sorting, and more. You can use their prototype testing tool to test the usability of your developing application. However, they don't offer a specialized mobile testing tool, so to test live apps, look for another mobile usability testing platform.
Pros:
Speedy participant responses from their user panel

Ability to bring your own testers
Cons:
No specialized tool for mobile UX testing of live applications

The free plan has incredibly limited abilities (only for test up to 2 mins long)
Pricing:
The plans start at $89 per month, the Pro plan is $199/month.
10. Testbirds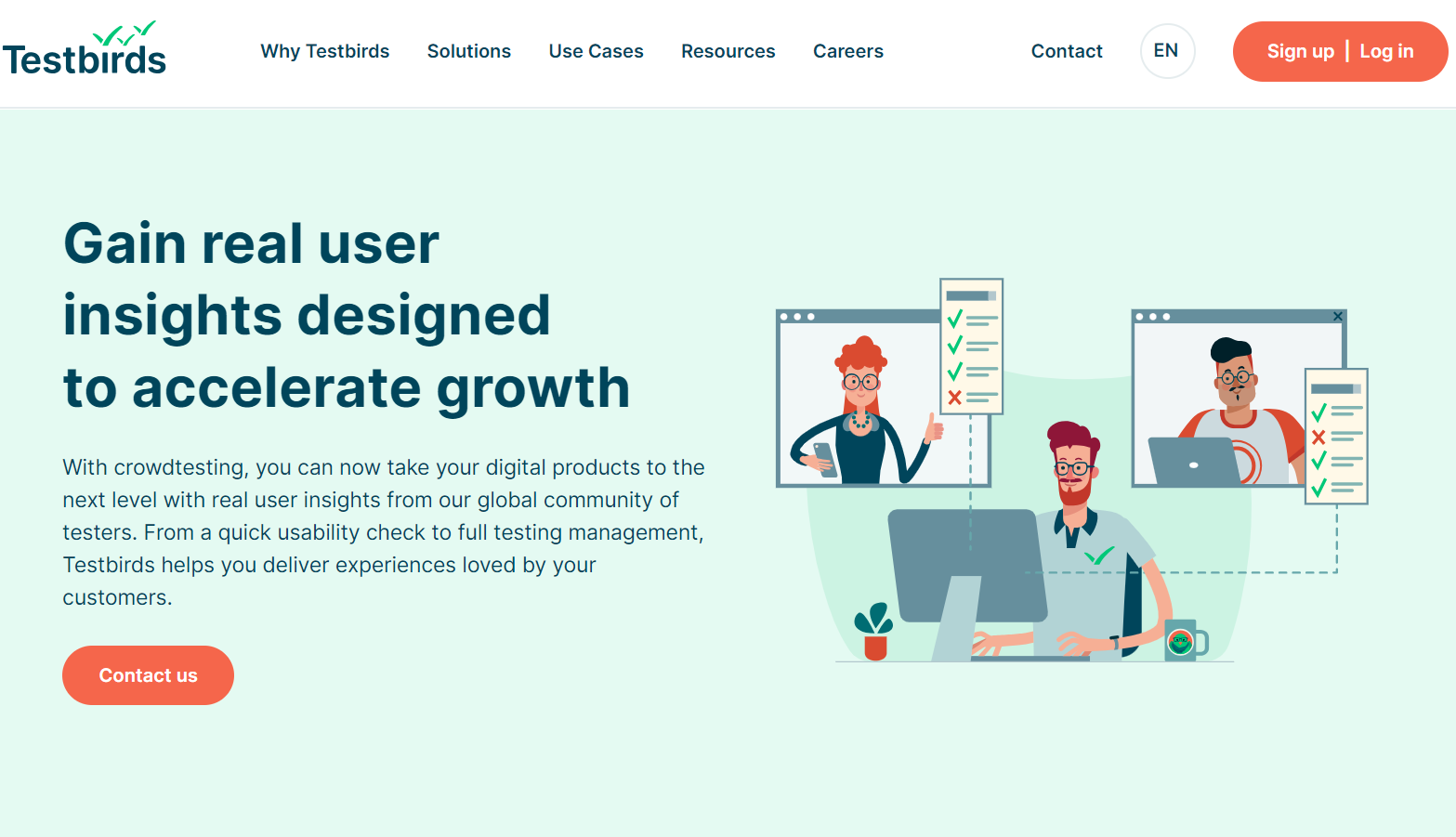 Testbirds is a remote usability testing platform with German roots. They offer many tools for crowd testing, like usability testing for mobile apps, as well as a user panel of 1M+ testers from 190 countries.
Pros:
Integrations with other platforms

Large user panel
Cons:
Users have had technical issues which required customer support to resolve (according to the review page Capterra)

Testing is only available in 4 languages (English, German, French, Italian)

UI could be improved

Steeper learning curve
Pricing:
Testbirds uses a credit-based pricing model. You purchase "BirdCoins" (1 Birdcoin = 25 Euro) and use those to pay for tests. Pricing is available upon request.
Why do you need mobile usability testing tools?
Mobile usability testing tools help you streamline the whole testing process – for both you and the participant. They
allow you to conduct UX studies easily
analyze a big part of the data automatically for you to extract what's important

store the recordings and the users' info in one place

make it easy to share your findings with other stakeholders
Using a mobile usability testing tool you can conduct your study fully remotely, with no need for a UX lab or even having your participants and researchers present at one time in one place. A good app testing tool saves you time, money and basically does all the "dirty work" for you.
Have you found the best mobile user testing tool for you?
We hope this article helped you in narrowing down your mobile usability testing tools choices. If UXtweak interests you, or even made your top choice we are ecstatic! Create a free account and try it today, or book a demo call and our UX experts will present you the platform.