We've prepared a list of some of the best mobile usability testing tools on the market to help you run your first mobile usability study.
What are mobile usability testing tools?
A mobile usability testing tool helps you streamline the whole testing process – for both you and the participant. It allows you to conduct the study, analyzes a big part of the data automatically for you to extract what's important, stores the recordings and the users' info in one place, and makes it easy to share your findings with other stakeholders.
Using a mobile usability testing tool you can conduct your study fully remotely, with no need for a UX lab or or even having your participants and researchers present at one time in one place. A good tool saves you time, money and basically does all the "dirty work" for you.
Top 4 mobile usability testing tools:
UXtweak

Userlytics

Validately

UserTesting
UXtweak
Being an all-in-one usability testing platform, UXtweak also allows you to easily test mobile UX with its specialized Mobile Testing tool. UXtweak streamlines the process of testing and makes it a pleasant experience for both you and the end tester. 
All you need to do to conduct mobile usability testing is to set up your study in the UXtweak web app! Participants can enter the study by simply opening a link. UXtweak will guide them through all the steps, such as downloading the UXtweak app – and yours as well. No SDK installations required. Test your users immediately.
You can test a mobile app, its demo version, a prototype, or even a mobile version of any website.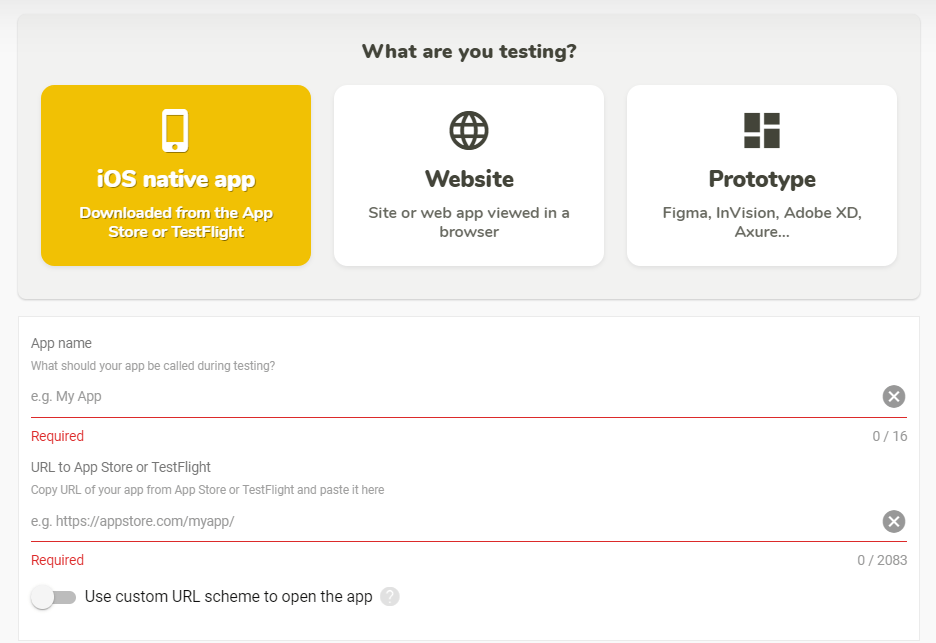 Give users tasks and watch them interact with your mobile app while getting insights on their behavior. Do they solve the tasks in line with your expectations or do they go off track? Screen and voice recordings will show where users get stuck, how they think about what they're seeing, and if they even become completely unable to finish the tasks.
UXtweak also helps you with recruiting! You can order testers from the 155M+ User Panel for as low as $5/tester. With a broad selection of profiling attributes known about every participant, you can target your audience in great detail.
Pricing: UXtweak offers a free starter plan for trying out the platform on small projects, which you can register for here. Paid plans start from 99€/month. Customized pricing is available.
Userlytics
Userlytics is a usability testing platform that helps you gather qualitative and quantitative insights on your users' behavior. The platform also offers you an option to recruit from their User Panel which has over 1M participants.
With Userlytics, you can test users without making them exit the target app and record their facial expressions while they go through the mobile test. 
Pricing: A free plan is not available. Userlytics has a pay-as-you-go pricing model. Paid plans start from 49€/per participant. The cheapest subscription is 399 €/month and billed annually.
Read our Userlytics alternatives article to get more information on Userlytics, its alternatives, and competitors.
Validately (now UserZoom GO)
A new company, used to be known as Validately but was recently acquired by UserZoom. It's a UX research tool that helps you analyze and improve the user experience of your products. Both moderated and unmoderated usability testing are available through UserZoom. UserZoom GO offers mobile app testing as one of their features.
Pricing: Because UserZoom is mostly aimed at large businesses, its solutions can be quite expensive. UserZoom GO is available at a monthly fee of $250. Even though there is no free plan, they do offer a free trial.
Check out our comparison of the best Validately Alternatives.
UserTesting
UserTesting is a platform that provides UX and product designers, marketers, and executives with a variety of usability testing options. They've been around for quite some time and are known for their large respondent pool. 
They promise mobile testing with no SDK installation, in a fast and easy way.
Pricing: Their pricing is accessible upon request and is primarily aimed at large corporations and big to medium-sized businesses.