A usability testing tool is a perfect solution when conducting your tests online. It is fast and efficient, automatically analyzes the data from testing and does all the dirty work for you. 
What is usability testing?
Usability testing is a technique used to evaluate the ease of use of a digital product or service. It is based on observing how users behave when they get their hands on the website or app, by giving them tasks to complete. 
The main goal of usability testing is to determine how easy the product is to use and whether there are any issues that need to be addressed, causing the users to get frustrated, lost or confused.
What is a usability testing tool?
A usability testing tool is a software that helps you conduct your usability tests online. It helps you to prepare and to conduct the testing, easily follow every user's interaction with the service/product, filter the findings and participants, as well as obtain insights by analyzing results in a comprehensive way.
Why do you need a usability testing tool?
The answer is pretty obvious. A usability testing tool streamlines the whole process of the study, allowing you to focus on your search for insights rather than doing the dirty work and trying to organize the chaos. It saves you time and effort, not to mention money.
It also allows you to generate reports and present them to the team and your stakeholders, creates detailed user profiles and stores all the study-related analytics in one place. 
Selection of a good online testing tool is also downright required if you want to do your testing remotely, or in an unmoderated manner.
Top 6 usability testing tools and platforms:
UXtweak

UserZoom

Lookback

Hotjar

UserTesting

UsabilityHub
UXtweak
UXtweak is a powerful all-in-one usability testing tool for improving the UX of websites and apps from prototypes to production. It's a perfect solution for unmoderated usability testing which allows you to run your studies quickly, effectively and with real users, even when you are on a budget.
You can just share a link to your study with your participants and get testing. Don't know where to look for respondents? UXtweak has got you covered by offering a great variety of recruiting opportunities. You can make use of our Recruiting Widget or get testers directly from our 155M+ User Panel.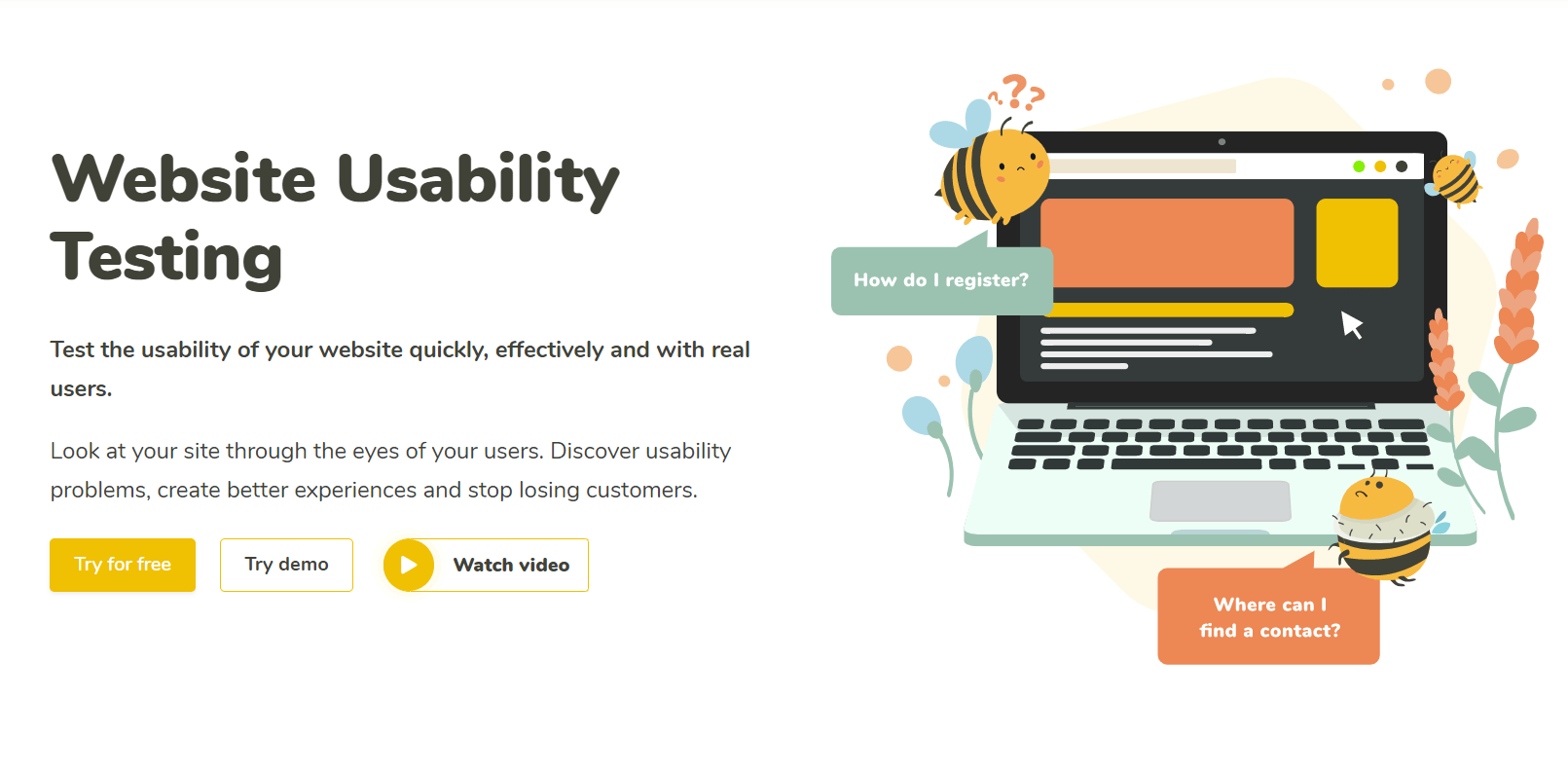 And not just that!
With UXtweak you can run a Prototype Testing, as well as a deep portfolio of other UX research tools, such as Card Sorting, Tree Testing, Surveys, Five Second Testing, First Click Testing, Preference Testing and Session Recording. Intuitive UI combined with in-depth analytics and comprehensive reports – UXtweak has everything you need for an insightful usability testing study.
Pricing:
Free time-unlimited Starter plan is available for trying out all the tools. Check out the pricing here. The Pro plan starts at $90/month and the Business plan at $112.
UserZoom
UserZoom is a UX research solution that works well for analyzing and improving the UX of your website, helping you create products that customers love. UserZoom offers both moderated and unmoderated usability testing.
They also provide you with a 120M+ user panel to recruit from and some other tools like Interviews, Card Sorting and Tree Testing
Pricing:
This tool is targeted to big companies that's why their solutions are quite pricey. The pricing of UserZoom GO starts at $250 per month. Although there is no free plan available, they offer a free trial.
Lookback
Lookback is another fine usability tool for empowering UX researchers. Its main features are moderated and unmoderated usability tests as well as interviews. Lookback gives you the opportunity to easily follow users' interactions with your website. 
They also allow you to take notes about participant actions and write down insights directly in the app. They are mostly known for their moderated tests and interviews that allow you to directly talk to the participants, watch their facial expressions and body movements while testing.
Pricing:
Lookback does not offer a free plan but they do have a free trial for all of the paid ones. The prices range from $17 to $229/month.
Hotjar
Hotjar is a website heatmap and behavioral analytics tool. One of their main features are session recordings together with heatmap analysis. With their tool you can watch the recordings and playback user sessions, pinpoint the problems in your products and see how users actually interact with it. They also offer surveys that help you gather user feedback.
Pricing:
Hotjar offers a Basics plan which is free forever and gives you access to 35 daily sessions. Their paid plans start at €31/month for 100 sessions and go up to €311/month.
UserTesting
User Testing is a platform that offers various usability testing solutions for UX and Product designers, marketers and executives. They have been on the market for a long time and are well renowned for their huge respondent pool.
Pricing:
Their pricing is available upon request and is mostly targeted at large enterprises and big or mid-sized companies.
UsabilityHub
UsabilityHub is a remote user research tool that validates design decisions with real users, helping you remove the guesswork from the process.They offer Figma prototype testing, surveys, preference tests, first click tests and five second testing.
UsabilityHub also allows you to recruit participants from their 340K+ User Panel.
Pricing:
UsabilityHub offers a free plan for some basic tests up to 2 minutes long. Their paid plans start at $79/month.